Lambert Castle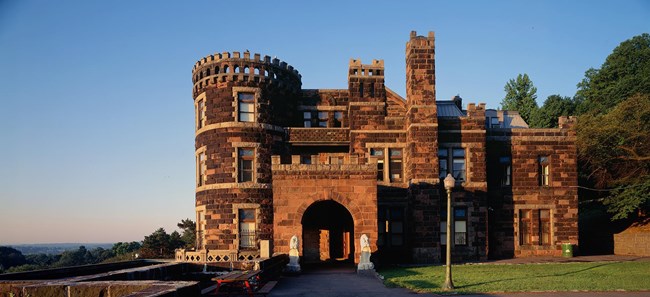 Catholina Lambert
Catholina Lambert was born in 1834 in Yorkshire, England. At 10 years old, he apprenticed as an errand boy at Boar's Head Mill. Over the course of seven years, Lambert managed to save five pounds which made it possible for him to leave England and arrive at Boston in 1851.
In Boston, Lambert worked for Benjamin Tilt and Walter Dexter at their silk factory. Several years later, Tilt left the business and Dexter offered Lambert a partnership. Dexter offered Lambert a $5,000 loan which over the course of three years, Lambert managed to pay back and buy Dexter's share.
As the business grew in the 1860s, Lambert had a three-story factory built in Paterson, NJ known as the Dexter Mill. The Dexter Mill had a large amount of government contracting during the Civil War.
In 1857, Lambert married Isabella Eldridge Shattuck. During their marriage, the couple had eight children who lived well and accomplished lives. The Lamberts moved to Paterson, NJ in the 1860s when they purchased
Maplewood
in south Paterson. Lambert was the president of the Silk Association of America and the Merchants Loan and Trust Co. of Paterson among other organizations.
Throughout his many years, Lambert acquired an extensive antique and art collection. By 1892, the
Maplewood
home was no longer large enough to house his vast collection. From there, they began work on "
Belle Vista
," also known as "
Lambert Castle
."
Belle Vista was named after Lambert's beloved wife Isabella who died in 1901, eight years after moving into the castle. Lambert continued to live in the Castle until his death on February 15, 1923.
Lambert Castle is now home to the Passaic County Historical Society. Its magnificent history still captivates the imagination of the visitors to the museum and library at "
Belle Vista
."
Learn more:
Explore the
Passaic County Historical Society
's resources, located at
Lambert Castle
Check out
Passaic County
's resources on their
Lambert Castle webpage
Last updated: February 1, 2023