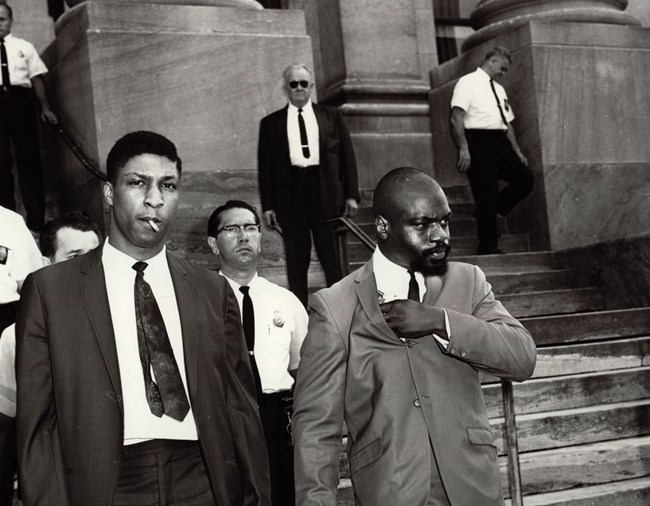 They say a boxer is in the fight of his life when in the ring. Ruben "Hurricane" Carter never knew how true that fight would become, someday. He was born in Clifton, New Jersey on May 6, 1937 and was the fourth child of seven in his family. His family lived in Paterson, New Jersey, and at the age of eleven, he was already struggling and fighting. He acquired a criminal record for assaulting a man with a knife, and was sentenced to a New Jersey juvenile reformatory at age twelve. He eventually escaped the detention center, escaping the reformatory through a basement window. Two weeks later he told a recruiter that he was from Philadelphia to hide his New Jersey criminal record.
He joined the United States Army in 1954, completing basic training at Fort Jackson, South Carolina. His first duty station was in West Germany. While there, he began his boxing career by joining the United States Army Boxing team. After just two years, he won the European Light Welterweight Championship with a record of fifty-one wins and five losses.
Shortly thereafter, in June of 1956, he was discharged as unfit for service or duty. After his release, he returned to the U.S. and was arrested for two muggings. He ended up in prison again until his release in September of 1961. That year, Carter became a professional boxer in the middleweight class. He had a career record of 40 fights/27 wins/12 loses/19 knockouts (KOs)/1 draw. He was a top-ranked contender for several years, until another bell rang, and started a new round in his life.
On June 17th, 1966 at approximately 2:30am, on the corner of East 18th and Lafayette Streets in Paterson, a shooting was reported at an establishment called the Lafayette Bar and Grill. The report was about three people being murdered. The weapons used were a .32 caliber pistol and a shotgun. The Paterson police went looking for the suspects, and Mr. Rubin Carter and a Mr. John Artis happened to be driving the same car that was described leaving the scene of the crime.
The two gentlemen were stopped by the Paterson Police. They found a bullet casing under the front seat, and a shot gun shell in the trunk. At this point, the two were taken back to the Lafayette Bar and Grill. The suspects couldn't be positively identified by two witnesses who were at the bar, Alfred Bello and Patricia Graham (Valentine). Months later, Bello and another man, Arthur Dexter Bradley, came forward and identified Carter and Artis as suspects. Carter and Artis were eventually arrested and convicted for the crimes, and prosecutors sought the death penalty. The jury recommended life sentences for Carter and Artis at the end of their trial in 1967.
In 1974, Bello and Bradley made a motion to recant their testimony. The judge denied their motion. Two appeals were filed and a motion was later made to the New Jersey Supreme Court. The trial went before a federal judge under Habeas Corpus, because both men believed they were wrongfully imprisoned. The Honorable Judge Haddon Lee Sarokin granted a writ, which noted the prosecution had found them guilty based on race and not on evidence. In his ruling, Judge Sarokin said the 1976 convictions were based on ''…an appeal to racism rather than reason, concealment rather than disclosure."
Carter was freed without bail in November, 1985 at age 48. During his trial, musician Bob Dylan, who was one of Carter's supporters, recorded a song about it called "Hurricane," which then became Rubin Carter's nickname. Carter eventually became a Canadian citizen, and lived most of the remaining years of his life in Toronto and Ontario. While in Canada, he became an executive director for the Association in Defense of Wrongly Convicted (AIDWYC), and also became a motivational speaker. Finally in 1993 the World Boxing Council recognized him with an honorary championship title belt.
His last round of life began in March, 2012. Rubin "Hurricane" Carter revealed that he had prostate cancer and succumbed to the illness and passed away under the watchful care of John Artis... never answering that final the bell. In a boxing ring, if you don't answer that final bell the bout is over. We, like Rubin, live a life of struggle brought on by circumstances or by something in ourselves.