Helene Miller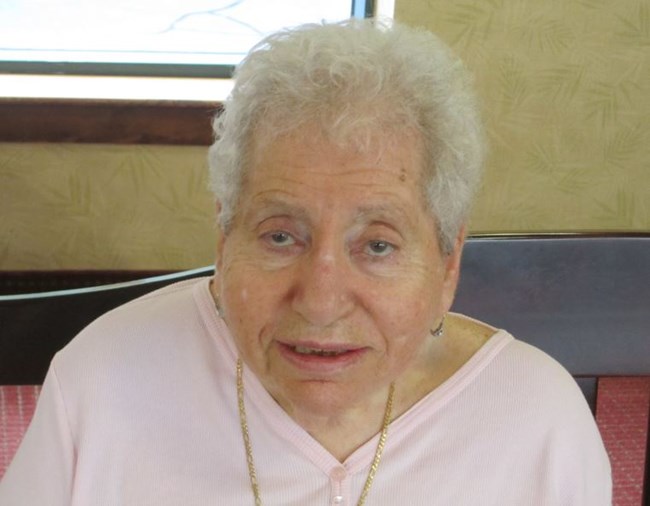 Helene Arbus Miller was born at Barnert Hospital in Paterson in 1933 into a Jewish family of silk weavers from Lodz, Poland. Her grandfather, Abraham, came to America in 1913 to join his brother in Paterson. Her grandmother followed in 1816 with her children, one of whom was Helene's father, Usher, who later adopted the given name Marris.

The family owned a mill, New Deal Weaving Company, at 3 Mill Street. Helene recalls the gray gate, the steep winding stairs to the fourth floor, the constant noise of the looms, and the vibrating wooden floors. For the time, Helene worked there as a bookkeeper. The mill manufactured upholstery for furniture and material for neckties. It closed around 1969, due to family illness and the migration of the business to mills in the southern part of the Unites States.

Helene's family was large and celebrated Jewish and secular holidays at her grandmother's apartment on Governor. They spoke Yiddish in the household. Helene's great-grandmother also immigrated to Paterson, Bubbe Dena, who refused to learn English and never removed her traditional matron's wig, not even in the bath. Their kosher meat order from Wetter's arrived every Monday and the ice man came, carrying the ice block with his big tongs and installed it under the ice box.

Although Helene's parents moved to Elmwood Park by the time she reached high school, she gave her address at an aunt's house in Paterson so she could attend East Side High School. But the truant officer uncovered her secret one day when she called in sick and she was forced to attend high school in Lodi, where there weren't as many Jews.
Helene Arbus Miller

Helene Miller talks about growing up in Paterson.

Credit / Author:

Helene Miller/NPS Intern Barbara Krasner

Date created:

2020-10-14 00:00:00.0
Interview Transcript
| | |
| --- | --- |
| Interviewer: | This is Barbara Krasner and today is Wednesday, November 12th, 2014. I am in Norwood, New Jersey with Helene Miller and this is Helene's second interview about her growing up in Paterson and about her family's mill business. Hi, Helene, how are you this morning? |
| Miller: | Fine. |
| Interviewer: | So, as I mentioned, I just wanted to ask some more questions… |
| Miller: | Okay. |
| Interviewer: | Because I was so intrigued by what you said in your first interview. So, as I just mentioned to you offline that I know where your family was from in Poland, but it seems you know where your family was from in Poland, too. Because that didn't come through on the first interview. So you said Lodz and Warsaw. |
| Miller: | Warsaw, right. |
| Interviewer: | So I looked up the immigration information of your family… |
| Miller: | Okay…on my father's side… |
| Interviewer: | On your father's side… |
| Miller: | Arbus. |
| Interviewer: | Arbus, and I'm not sure I brought the right, here it is. Yes, the Arbus family and most of the family came in 1916 on the ship Niew Amsterdam from Rotterdam and it had your grandmother, I believe your father, Uncle Jankel, Jacob… |
| Miller: | Jacob, that's my uncle Jack. |
| Interviewer: | And there was Anne, so she was Chana. |
| Miller: | Chana, right. |
| Interviewer: | Your father was Usher… |
| Miller: | Usher, but he was called Morris. But his real name was Arthur. |
| Interviewer: | Oh, okay. |
| Miller: | But I don't think he liked the name Arthur, that's why he changed it to Morris. |
| Interviewer: | Okay. |
| Miller: | And it was spelled M-A-R-R-I-S. |
| Interviewer: | Oh, interesting, okay. |
| Miller: | Isn't that interesting? |
| Interviewer: | Yeah. |
| Miller: | Instead of M-O. |
| Interviewer: | And your grandmother, in Yiddish, was Machla. |
| Miller: | Right, Mary. |
| Interviewer: | Which became Mary. And your grandfather came first. |
| Miller: | My grandfather came first with my Uncle Harry. That's the oldest brother. |
| Interviewer: | Right. |
| Miller: | My father was next, and Jacob was next, then Anne. |
| Interviewer: | Right. And so they were, when they came over in 1916, your grandfather was living at 76 Main Street in Paterson. |
| Miller: | That's interesting. |
| | Does that address mean anything to you? |
| Interviewer: | Main Street was mainly the town, I mean, where the main business was. |
| Miller: | So, that's where he was living then, and do you know, well, you may not know your grandmother's maiden name? |
| Interviewer: | Bertha, I know, that's my mother's, Bertha, well, Edelstein is this, she married my grandfather. Edelstein was the last name. |
| Miller: | So, okay. |
| Interviewer: | Does it have it there? |
| Miller: | No. I have your grandmother's maiden name. Which is Michalowitz. |
| Interviewer: | Oh, yes, because they also brought my grandmother's mother, that was her name, yes. |
| Miller: | What was, do you remember her first name? |
| Interviewer: | Dena. |
| Miller: | Dena. And she was from Belgotow [Bełchatów] in Poland. I didn't look that up, so I don't know how close it is to Lodz. |
| Interviewer: | But I know that I had my great-grandmother. |
| Miller: | Right, okay, cool. |
| Interviewer: | Your [grand] father came in 1913 on the SS Campanello, also from Rotterdam and your [great] uncle Jack was already here. |
| Miller: | No, Jack came, Harry had to be the one. |
| Interviewer: | Well, no, I'm not saying he traveled with him. Jack was already here. Because of the passenger record said he was going to Jankel Arbus. |
| Miller: | I see. |
| Interviewer: | But one thing was very clear: They were weavers in Lodz. |
| Miller: | Yeah. That was my father in New Deal. |
| Interviewer: | They were part of that whole pattern of weavers from Lodz. |
| Miller: | Right. My uncle Harry and his uncle Emanuel. Anything about Emanuel being in there? |
| Interviewer: | Um… |
| Miller: | Manuel, not Emanuel. It's Manuel. |
| Interviewer: | No, there was a Mechel and there was a Mendel. |
| Miller: | Mendel was the one, became Manuel. |
| Interviewer: | Manuel. And he came in 1914. |
| Miller: | Yeah. |
| Interviewer: | And then he had a brother Mechel, I don't know what that translated to, who came in 1911. Harry, so yeah, Harry was your father's next oldest brother. |
| Miller: | Uh-huh. Yeah. |
| Interviewer: | So I found out a little bit about that. |
| Interviewer: | Okay. |
| Miller: | Did they ever talk about the silk-weaving business, the mills, or what they did in Poland? |
| Interviewer: | No, but when they were here in the United States, as I was growing up, I really wanted to be a nurse, baby nurse, because I loved children. But my father who had a bookkeeper there, I was still in school yet, but I took over the bookkeeping because she left to have a baby. |
| Miller: | Was your whole family working at New Deal? |
| Interviewer: | As I say, my uncle Harry, Emanuel, my father, of course, it was just three of them. It became New Deal Weaving. |
| Miller: | So your aunts didn't work there? |
| Interviewer: | Well, my mother might have worked there. That's where I'm lost, because I don't know how my mother and father met. I'm not sure. |
| Miller: | Okay. |
| Interviewer: | Had to be in the United States, of course. I know my mother came on Halloween. She always said, Halloween, that's when I came to the United States. |
| Miller: | And I was born in 1933. |
| Interviewer: | Right. Do you know who you were named for? |
| Miller: | Who I was named after? |
| Interviewer: | Yeah. |
| Miller: | I think I was named after my grandmother. |
| Interviewer: | So that would have been on your mother's side. |
| Miller: | On my mother's side, yes. Bertha was my grandmother, her mother, so I'm saying I was named after her. |
| Interviewer: | What's your Hebrew or Yiddish name? |
| Miller: | Chaia. |
| Interviewer: | Chaia. Yeah, okay, so "life." |
| Miller: | I was only three pounds. Eight-month baby. |
| Interviewer: | So what was it like growing up Jewish in Paterson? |
| Miller: | It was like anything, they sent me to Hebrew School and I didn't like it. I wrote beautifully, don't get me wrong, but I didn't understand what I was writing about. So I said, I don't want to go anymore. I never got, at that time, [girls] never bat mitzvahed or bar mitzvahed, boys had to, because my father said that he always ran away when he was in Poland, he said that he always hid. [laughs] |
| Interviewer: | So how long did you go to Hebrew school for? |
| Miller: | Oh, about maybe six or eight months. |
| Interviewer: | Okay. And what synagogue was it associated with? |
| Miller: | That was the one in Paterson, the one that was on 33rd Street. |
| Interviewer: | Was that Barnert? |
| Miller: | Barnert…that big one that's on, that's down the hill around…[Note: This is Temple Emanuel.] |
| Interviewer: | Okay. |
| Miller: | In Paterson. |
| Interviewer: | Do you remember going there for any celebrations? |
| Miller: | Yeah, with other people and, you know, stuff like that that. |
| Interviewer: | Does any particular memory come to mind? |
| Miller: | Of course my cousins, you know, the men, they were bat [bar-mitzvahed], so I always went. So, it was just, so, we were the oldest, my cousin Stanley, my cousin Myra, and myself, and Danny. Danny was, he's still alive, he lives in New York, but he was a little bit slow. You know, he's retarded. So we were the three, four, oldest. My cousin Myra, who lives now in Florida, Stanley died, that's Harry's oldest son, he died. And Danny's still alive. He still lives in New York. |
| Interviewer: | Okay. |
| Miller: | And I'm here. Unfortunately, but hey, what can you do? |
| Interviewer: | Do you remember anything special about being Jewish—in your household? |
| Miller: | Yes, my mother was kosher. But then my father got ulcerated and they said that you can't do what you're doing, so my mother went off from being kosher. |
| Interviewer: | How did she feel about that, do you know? |
| Miller: | It was all right. Ay, she had to do what she had to do. |
| Interviewer: | Yeah. |
| Miller: | So I grew up, I don't eat pork, and I don't eat ham. I know that. Don't mix milk, fleshiks [meat], with milk. |
| Interviewer: | Did you speak any Yiddish at home? |
| Miller: | Yes, I did, because they did and I picked up, but I didn't let them know. |
| Interviewer: | Because they didn't want you to know. |
| Miller: | Hey, my grandmother, may she rest in peace, that's my father's mother, Mary, she would speak Yiddish, and I remember, I think I was about 12 and I said to her, bubbie, because that's what we called her, bubbie, you're in America, you got to speak English. And she would go, nayn. You know? So I said, come on, you got to learn English, I'll help you. No. She was a very staunch and a loveable person. She was like the matron… |
| Interviewer: | Yeah, yeah… |
| Miller: | She was a fantastic lady. We all loved her. |
| Interviewer: | Well, she wasn't that old when she came over. She was 29. |
| Miller: | That I didn't know. |
| Interviewer: | Yeah. |
| Miller: | Wow. |
| Interviewer: | I mean, she traveled alone with three children, steerage. |
| Miller: | I remember my grandfather had red hair and a beard, I remember that. He died in 1946. I remember that. |
| Interviewer: | Did they, during the war years, did they talk about family that was left in Poland? |
| Miller: | Well, my mother's side, her family, they were all killed by the Nazis. |
| Interviewer: | Yeah. |
| Miller: | That was from what my mother said. |
| Interviewer: | Yeah. |
| Miller: | From my father's side, they were all here already. And then my grandmother had two more children here in the United States. |
| Interviewer: | Right. |
| Miller: | She had Sophie… |
| Interviewer: | Right. |
| Miller: | Who's still living, and my uncle Sam down in Florida. Sophie is right here in Wayne. |
| Interviewer: | Oh, okay. |
| Miller: | She just had a birthday. She's 96 years old. |
| Interviewer: | Wow. What's her last name now? |
| Miller: | Nadler. N-A-D-L-E-R. |
| Interviewer: | Okay. Do you remember any special holidays at home, like Yom Kippur, Rosh Hashonah? |
| Miller: | Oh, we always had that. I carried it through with my kids also. But I don't know about now, you know, if they do it or not. |
| Interviewer: | So did the mills close on Jewish holidays? |
| Miller: | Yes, definitely, definitely. In fact, when I got married, my husband used to help my father when the looms, because it was running on the Falls, so when the belt broke, he needed help. So my husband used to go up and help him and pick up. He had to walk up four flights of steps, four, and I mean windey, windey, you know… |
| Interviewer: | Stairs… |
| Miller: | I was always scared, and it was all full of, not cotton, like cotton, not straw, I don't know what kind of material, I don't know, but it was like, even the pipes were around it. |
| Interviewer: | Oh. |
| Miller: | I remember that. Because I used to go up so many times, you know, and going around and around up to the fourth floor. |
| Interviewer: | So did they make broadsilk? What kind of silk … |
| Miller: | Oh, they made material for, upholstery, upholstery for a couch, for couches, you know, because you have silk in the couches, you didn't know that. |
| Interviewer: | No. |
| Miller: | Yeah. Silk was woven in there to make the couch. |
| Interviewer: | Oh, interesting. |
| Miller: | In the material and I think it was neckties. |
| Interviewer: | Okay. When did the New Deal close? |
| Miller: | My mother got sick. My father had to take care, and then my uncle died, Harry died, and Manuel died, and then my father, it was too much for him. My mother helped in the beginning. But she had very bad legs. Ulcerated legs. |
| Interviewer: | Right, you mentioned that. |
| Interviewer: | So that's why, when she, my mother got sick. In 1970 she died. Eleventh of February she died. 1970. So my father closed it up. I think maybe six months before before she passed away. |
| Miller: | So it was in operation for many decades. |
| Interviewer: | Oh, yeah. |
| Miller: | Yeah. |
| Interviewer: | As I was growing up, I mean, yeah. Even after, when I got married, too. I got married in '54. |
| Miller: | So were there any limitations, like when you bought furniture, did you have to buy upholstery from your family factory? |
| Interviewer: | Well, it wasn't, he just made the… |
| Miller: | The material, no, that was already, no, no. |
| Interviewer: | Okay. |
| Miller: | That was, they just made the weaving, that was it. |
| Interviewer: | Okay. How did… |
| Miller: | Remember the loom going back and forth… |
| Interviewer: | Yeah. |
| Miller: | The going back and forth, I remember that. The gates, this, and he had to slip it through, I remember that. That's about it. |
| Interviewer: | Do you remember the noise level? |
| Miller: | Oh, the noise was tremendous. I think my father got deaf from that. I have very good hearing, but I think he got deaf, he couldn't hear too well because of the boom-boom-boom-boom-boom-boom-boom. I'm still thinking of it now. |
| Interviewer: | Did the floors vibrate? |
| Miller: | Yes, definitely. |
| Interviewer: | Were they wooden floors? |
| Miller: | Yeah. They had to be. Now what they did with the mill, they made artists' studios in there. And I went back because I had a friend, who was Spanish, and they have a restaurant there that they went to to eat at a Spanish restaurant, and he said we're going to Mill Street. I heard Mill Street, I said, guess where my father had his mill? I went to look, totally different. |
| Interviewer: | Yeah. |
| Miller: | But I looked for that gate. It was a gray gate. Big, you know, like that, and it had a gray door, you know, gray gate down. I think I saw it, I don't think they got rid of that. |
| Interviewer: | Oh, okay. |
| Miller: | So that was like I think 3 Mill Street. That's where it was. |
| Interviewer: | So, when do you think the mill opened? |
| Miller: | I don't know. |
| Interviewer: | I would assume since it was called New Deal, it was in the '30s… |
| Miller: | Had to be when Roosevelt, Franklin Roosevelt made the New Deal, that's when my father named it New Deal. |
| Interviewer: | Okay. Now did you ever hear any stories of the family leaving Paterson for a while? |
| Miller: | Leaving Paterson… |
| Interviewer: | Before you were born… |
| Miller: | As far as I know, no. |
| Interviewer: | Because I actually found them living in New York state, the whole mishpucha [family] in Sidney, New York, upstate New York. |
| Interviewer: | Really? |
| Miller: | There was a silk mill there. |
| Interviewer: | Well, my father closed because it was going down south, you know, there was a lot of south, you know, mills down south. |
| Miller: | This was 1925. |
| Interviewer: | 19, I don't know. I wasn't born then. [laughs] |
| Miller: | No, I just wondered if you heard any stories about the family leaving. |
| Interviewer: | No. Not that I know of. |
| Miller: | Yeah, they, so, your grandfather was 46 then, when they were living in Sidney, New York. |
| Interviewer: | Really? |
| Miller: | Yeah. And your grandmother was 38, Harry was 21, your father was 19, Jack was 17, Anne was 16, Sophie was 7, Samuel was 3. And Yetta… |
| Interviewer: | Yetta, that was Harry's wife. |
| Miller: | But they weren't married yet, but she was with them. Bernberg, Berenberg, her maiden name. And she had come in as a silk weaver also. |
| Interviewer: | Yes, that I remember. |
| Miller: | Yeah, and the name of the mill was Kaiser. |
| Interviewer: | No, that's interesting. |
| Miller: | Yeah, so in 1923 they were living in Paterson, but in 1925, they were living in New York, and then they obviously came back. Yeah, so you never heard of this. |
| Interviewer: | No. Sorry. |
| Miller: | No, I just thought I'd mention it. |
| Interviewer: | That's very interesting. |
| Miller: | Yeah. |
| Interviewer: | So… |
| Interviewer: | If I asked my aunt Sophie, I don't, how old was she then, 16? |
| Miller: | Sophie was 7. |
| Interviewer: | Seven, she won't know. |
| Miller: | She might remember. |
| Interviewer: | And Sam was three? |
| Miller: | Sam was three, yeah, he definitely wouldn't remember. |
| Interviewer: | No, he wouldn't remember. He's down in Florida. |
| Miller: | Yeah. |
| Interviewer: | He's married 70 years already. 7-0. His wife now is in a nursing home now. Well, what can you do? |
| Miller: | Well, maybe Sophie would know, I don't know. |
| Interviewer: | I'll ask her when I speak to her. |
| Miller: | Okay, yeah. And then just ask Diane to call me. |
| Interviewer: | Okay. |
| Miller: | Yeah, that'd be great. |
| Interviewer: | So, in your first interview, you said you left Paterson, you went to what was East Paterson at the time. |
| Miller: | Yeah, East Paterson. |
| Interviewer: | Do you remember what year that was? |
| Miller: | Let's see, when I became pregnant with my daughter, because I had the three boys, so my boys were born in '55, '56, and '60. And then I had Amy in '65. |
| Interviewer: | Okay. |
| Miller: | So we went to Elmwood Park, East Paterson at the time, then they changed it to Elmwood Park, and maybe 1961? Maybe before. '60 was my son's, '60, and Amy's born in '65. |
| Interviewer: | And you said you were pregnant with her when you moved? |
| Miller: | Maybe in that time. |
| Interviewer: | '64, '65. |
| Miller: | Yeah, '64. |
| Interviewer: | And you also mentioned Fair Lawn, I think. |
| Miller: | Yes. |
| Interviewer: | When did you move to Fair Lawn? |
| Miller: | After, you know, my three boys had a fire in the house. It was in 1967. |
| Interviewer: | Okay. |
| Miller: | That's when I lost my three boys. |
| Interviewer: | Yeah, I can't even imagine. |
| Miller: | And then I found out I was pregnant with Jackie, the same day. That morning or whenever I went to the doctor. And then that night, November 6th, 1967, we had the fire. We had the fire, electrical fire. |
| Interviewer: | Yeah, I can't imagine what you went through with that. |
| Miller: | I still blame myself for not going up with my younger boy, who was 7. To go up to see if the two older boys were covered or whatever. I didn't do that. And I regret it the rest of my life. |
| Interviewer: | Yeah. Ach. |
| Miller: | What can you do? That's life. |
| Interviewer: | Yeah. So let me go back to your home life in Paterson growing up. Did your relatives live near you? |
| Miller: | Oh, everybody lived near, all around us. Everybody lived around Fulton Place, I lived on Fulton Place, I think it was, Harrison Street, that's where Uncle Harry lived, oh, Hamilton, I think it was Hamilton, which was not that far. We went to School 6, all of us. I don't know if it's still there yet. |
| Interviewer: | And so you lived on Fulton Place the whole time? I thought you said Carroll Street? |
| Miller: | Carroll Street – they're all the same area, you know. |
| Interviewer: | So, did you get a sense that as the mill did more work, you were moving around? |
| Miller: | Well, we moved to different apartments. |
| Interviewer: | And then when you had holidays, everyone came together? |
| Miller: | Everyone, everyone. Every Saturday night, we used to go to Bubbie's house, I remember jumping on the beds, that was fun. [laughs] |
| Interviewer: | Where did she live? |
| Miller: | She lived on Governor. I think it was Governor. |
| Interviewer: | And she had an apartment? |
| Miller: | She had an apartment, yeah. We got all together for the holidays, every holiday. Every holiday. Jewish holiday, Thanksgiving, everything, everything. |
| Interviewer: | It was all at her house. |
| Miller: | It was all at her house. |
| Interviewer: | And when did she die? |
| Miller: | She died New Year's Eve, 1970, yeah, because my mother died in 1970, she died in 1975, I think. New Year's. |
| Interviewer: | Wow, she lived a long time. |
| Miller: | Yeah. She was over 90. |
| Interviewer: | Yeah, she was a widow a long time. |
| Miller: | Yeah, yeah. |
| Interviewer: | But yet she didn't speak English. |
| Miller: | Kept speaking Jewish. |
| Interviewer: | Did she wear a sheitl [matron's wig]? |
| Miller: | No, no she did not, but my great-grandmother did, because I remember at 13, I had to babysit, because they were going somewhere, I was 13, I remember that directly, and I had to give my great-grandmother a bath. And she had this like, it had this twist around in the back… |
| Interviewer: | Yeah. |
| Miller: | And I said, what did I call her, did I call her Bubbe? Bubba Michalowitz, I used to call her, or maybe Bubbe Dena, so this way could distinguish between the two, I'm going to give you a bath, I was 13, and I said, see, nice, water, good, good. It's funny, she went in, and I gave her a bath, I remember. I remember that distinctly. |
| Interviewer: | And just for the sake of the recording, a sheitl is the Yiddish word for a wig married women wore. |
| Miller: | Right, exactly. |
| Interviewer: | The traditional married women wore. |
| Miller: | Right, exactly. |
| Interviewer: | Yeah, they weren't like wigs today. |
| Miller: | I never saw her real hair. |
| Interviewer: | Yeah. |
| Miller: | I never saw the real hair. |
| Interviewer: | So even in the bath she wore it? |
| Miller: | In the bath. I said, take it off. No. She wouldn't let me take it off. |
| Interviewer: | Wow. |
| Miller: | So. |
| Interviewer: | Wow. She really stuck to her guns. |
| Miller: | She was a real… |
| Interviewer: | So did they order meat from a kosher butcher? |
| Miller: | Yeah, from Weber's. It was another one with a W. Wiener's. What, W-H. Whinters. Something like that. I don't remember the exact name of the butcher that was there. [Note: Wetter's] |
| Interviewer: | Did they go to the butcher or was food delivered? |
| Miller: | I think it was delivered. |
| Interviewer: | Was there a certain day that it came? |
| Miller: | I think it came on Mondays, I think. The whole order for the whole week. |
| Interviewer: | Yeah, yeah. |
| Miller: | At that time they didn't have any refrigerators. They had the ice thing, so I don't know, unless they did all their cooking all at once, and just, I don't even know where they would keep it. Maybe in the winter time they kept it outside. |
| Interviewer: | Did they order poultry there, too, or did they go… |
| Miller: | Poultry also… |
| Interviewer: | Okay. |
| Miller: | Everything. Everything. |
| Interviewer: | Do you remember the ice man? |
| Miller: | Oh, I remember the ice man. Oh, you better believe it. Coming with this big thing here and putting it in. |
| Interviewer: | Was there a lot of sawdust? |
| Miller: | What? |
| Interviewer: | Was there a lot of sawdust? With the ice? |
| Miller: | I don't know. |
| Interviewer: | Whether tt was covered in sawdust or something. |
| Miller: | All I remember is those big things, carrying the block of the ice. |
| Interviewer: | The big tongs. |
| Miller: | Right, with the big tongs, right. Exactly. I remember him putting it, what are you doing to do with that? I'm going to put it in here, in this box over here, so… |
| Interviewer: | So, what floor of the apartment building did you live on? |
| Miller: | I lived on the first floor. My grandmother, I think they lived on the first floor, too, in an apartment. And then my aunts bought a house on 33rd Street. |
| Interviewer: | Which aunt was that? |
| Miller: | That was Sophie and Anne, they bought a house together, a two-family house on 33rd and 19th Avenue. |
| Interviewer: | Okay. |
| Miller: | Because Anne lived upstairs, second floor, and her daughter after she got married, she got married in '52, Myra, so she lived up on the attic. |
| Interviewer: | Okay. |
| Miller: | Somebody lived on the first floor, Anne on the second floor. |
| Interviewer: | Okay, cool. You might have mentioned this on the first tape, where did you go to high school? |
| Miller: | East Side. |
| Interviewer: | East Side. Class of? |
| Miller: | I don't remember. I'm sorry. |
| Interviewer: | So, let's see, maybe '50? 1950? |
| Miller: | Yeah, because I got married in '54, but then what happened was is I got sick one day, but I did call in, but the truant officer came to my mother's, because we gave the address of my aunt for my mother's, Pauline, gave her address, because she lived in Paterson, because we lived, where'd we live, oh, we lived in Elmwood Park, we lived in East Paterson. My mother bought a house and I had to go to Lodi and my mother didn't want me to go to Lodi High School because I would have been the only Jew there. So… |
| Interviewer: | So you used a different address. |
| Miller: | So we used my aunt's address, Pauline, who lived in Paterson but they, I got sick one day. I call in though but they came anyway to my aunt's apartment. She didn't know anything about it. So I got caught. [laughs] |
| Interviewer: | You did. |
| Miller: | I certainly got caught. So I had to wind up going to Lodi High School, where I graduated. |
| Interviewer: | How long did you go to East Side? |
| Miller: | Maybe about eight months |
| Interviewer: | Oh, that's all? |
| Miller: | That's all. Not even a full term. |
| Interviewer: | No. So your family moved to Elmwood Park. |
| Miller: | My mother and father, yes. They bought a house in Elmwood Park. |
| Interviewer: | Do you remember when that was? |
| Miller: | Let's see, 1952, maybe in the '50s, maybe '49. |
| Interviewer: | Okay. What do you want today's generation to know about Paterson? |
| Miller: | Oh, they had the beautiful, is the stone still there, the library that's still there with the steps? That still there, the library? |
| Interviewer: | I don't know. |
| Miller: | You don't know. |
| Interviewer: | I'm not from Paterson. |
| Miller: | Ah. They also had when I used to go, they had a beautiful, all different stones that were down Broadway. The library was here but you had to go around the corner to go see the stones, those stones. They were absolutely gorgeous. I don't know if it's still there unless they moved it. |
| Interviewer: | We'll have to check that out. |
| Miller: | Yes. What's your name again? |
| Interviewer: | My name? |
| Miller: | No. |
| Interviewer: | Ilyse? Of the Park? |
| Miller: | Ilyse. You have to ask her if it's still there. |
| Interviewer: | Yeah, I will. |
| Miller: | I was so happy to see her. But I mean when we went to the Falls. The first time, you know, I met her and that's how we got to discussing this, when they did the interview, the tape, you know, on that one. And then again, we were going again, we were going to see the Castle, Lambert's Castle, we went to the Park first. So the young man there and I said, where's the ranger that was here, the girl ranger. Oh, she's off today but she might be coming in in the afternoon but I said, I won't be here. And as we're talking, here she pulls up. And that was a great, G-d must have been working, because I really wanted to see her again. |
| Interviewer: | Yeah, she's a great person. |
| Miller: | Yes, and you could tell her that. |
| Interviewer: | Well, she'll know from the tape. |
| Miller: | Okay – that I really enjoyed talking with her again, and as I said, G-d's will that she was not supposed to come in, but she came in… |
| Interviewer: | And there she was. |
| Miller: | And then we were talking. And then said she was talking about you. That it would be a better interview. |
| Interviewer: | Well, I think there was a lot that came out during the first interview. That was good. I just thought there'd be other questions I would ask… |
| Miller: | Okay. |
| Interviewer: | That someone else wouldn't. Right? Because Keith didn't ask you about kosher butchers. |
| Miller: | He never did. |
| Interviewer: | No, he wouldn't know to. |
| Miller: | Right, exactly. |
| Interviewer: | Yeah. |
| Miller: | I think it was Wetter's, I don't know if I'm spelling, W-H-E-T-E-R-S? That might be it. |
| Interviewer: | Yeah, I'll look that up. |
| Miller: | You could probably look it up. It must be there somewhere. On the Google or something. |
| Interviewer: | Well, maybe. Most of them are gone. Unless they're still in Orthodox areas, but…in other parts of New Jersey, but I'm not sure about Paterson. |
| Miller: | Yeah. |
| Interviewer: | Yeah. Did you have friends who were Jewish or were they different… |
| Miller: | Of course when I went to Lodi, there weren't that many Jewish… |
| Interviewer: | But in Paterson. |
| Miller: | Paterson was more, but not really. I tried to see if I could find, you know, people's names and whatever but couldn't, because I have an iPad also. So I try to go looking for search , you know, through the search, couldn't find. |
| Interviewer: | All right, that's too bad. So you said you went to School 6. What grade did that go up to? |
| Miller: | Eighth grade. |
| Interviewer: | Okay and then you went to East Side for a while… |
| Miller: | Then I went to East Side… |
| Interviewer: | For a while… |
| Miller: | I went to Eastside maybe two months and then they bought the house in Elmwood Park but I wanted to stay… |
| Interviewer: | Right. |
| Miller: | There and not to go to Lodi High School. 1953 I graduated, no, that can't be right. Yeah, I graduated 1953 and '54 I got married. |
| Interviewer: | You were 20 when you graduated high school? |
| Miller: | No, that doesn't seem right. |
| Interviewer: | No. '51 maybe. |
| Miller: | I don't know. |
| Interviewer: | Is there anything you want people today to know about the mills or anything else about Paterson? Growing up in Paterson? Being Jewish in Paterson? |
| Miller: | That the Yiddish is running away. Like with me, I mean, I know a few words. It's in my children, forget it. |
| Interviewer: | Yeah. |
| Miller: | Which is the sad thing. Because even when the rabbi comes here, I said, do you speak Yiddish? And he says, only Hebrew. So it's, it's a shame. That the Yiddish is going to be gone. |
| Interviewer: | It won't be gone. There's a whole new generation of Yiddish speakers. And they aren't necessarily Jewish. |
| Miller: | Maybe they have classes or something like that. |
| Interviewer: | Yeah. |
| Miller: | I know there's Hebrew classes. |
| Interviewer: | There's a Yiddish Book Center in Massachusetts… |
| Miller: | Oh. |
| Interviewer: | And they're training people. |
| Miller: | Okay. Great, great. |
| Interviewer: | Collecting Yiddish books from everywhere. It's a pretty amazing place. |
| Miller: | Okay, okay, I'm glad that it's... |
| Interviewer: | I took a Yiddish class there. |
| Miller: | Oh you did. |
| Interviewer: | Yeah. |
| Miller: | Okay. When I come here and I tell them a dirty curse. Like mishigineh. They said, what is that? I said, don't you know what that is? Crazy. [laughs] |
| Interviewer: | Yeah, I mean my grandparents spoke Yiddish, but I was young when they all died, so I don't remember much of what they said. I didn't even know my father's father spoke Yiddish, because he came younger and he opened a store and he spoke English, because that's who his customers were. |
| Miller: | Exactly, that's what happens. |
| Interviewer: | Yeah. |
| Miller: | But I'm glad that the Yiddish is not going to be lost. Because my children, especially my younger daughter, forget about it. What can you do? |
| Interviewer: | Yeah. |
| Miller: | But maybe my grandchildren, I don't know. |
| Interviewer: | You never know. |
| Miller: | They were both bar and bat-mitzvahed. I went two years ago in December. My daughter lives is Oregon. My older daughter, Amy. She lives in Oregon, so she has a boy and a girl, who's now in college, 19. And she moved to Oregon because her husband works for Intel. So they had to move to, to Oregon. My other daughter, Jackie, moved to Florida, because that's where he was working. Also they lived in South Carolina for a while until, you know, with the computers and everything, you can go, you don't have to really, but then they moved down to Florida, so, on the east coast. And most of my family's on the east coast here. Sam is there. Anne's daughter's there. So, I wanted to move there, too, because it's warmer, but I couldn't do it. Because I have spinal stenosis. |
| Interviewer: | Yes, you mentioned that. They told me I'll never walk again. [laughs] |
| Miller: | Yeah, well, you're walking. |
| Interviewer: | I would have to get a wheelchair and push the button, and I said, I'm very strong, they say that, I'm a very strong-willed person. If I'm going to do it, I will do it. I won't lay down. |
| Miller: | I think you're doing great. |
| Interviewer: | Hey, I was only three pounds when I was born, eight-month baby, so I guess I had the will to live, because my mother had no more children then. |
| Miller: | Well, look at what your Hebrew name is, Chaia. |
| Interviewer: | That's right. |
| Miller: | Right, and you know that back in, back in the Old Country, if a child was dying, they would rename the child Chaim or Chaia. |
| Interviewer: | Uh-huh. That was my husband's name. His name was Harvey. Chaim was his Hebrew name. |
| Miller: | That's a good match. |
| Interviewer: | Yeah. |
| Miller: | Yeah. |
| Interviewer: | I met him at 15. |
| Miller: | Yeah, you mentioned that in the first tape. Yeah. |
| Interviewer: | Yeah. |
| Miller: | Met him at 15, at 34 years. |
| Interviewer: | So what aunt were you going to? |
| Miller: | I was going to my aunt's, at Jack's and Gertie's. |
| Interviewer: | Oh, okay. |
| Miller: | They invited me to come for the weekend. To come for the weekend and I went. His son, Joey, took me to the Jewish club… |
| Interviewer: | Right, you mentioned that. |
| Miller: | Where they belonged and that's where I met my husband. |
| Interviewer: | Well, that was bashert. [fate] |
| Miller: | I guess, yup. We fell in love right away, even though I was two years older. He didn't tell me he was 15. I said I was 15 but I was 17. [laughs] So, I just went over, you know, my clock had, my watch had stopped. So I went over and said, can you tell me the time, please? And he said, yeah, I'll tell you the time. So he told me the time and then we were doing a dance, it was Jewish, you know, Jewish club… |
| Interviewer: | Yeah. |
| Miller: | And he said, you want to dance and I said, okay, fine. That's how we, we were supposed to go, they were playing [planning?] on to go on the Circle Line, to go on the ship, on the boat, but guess what? He wasn't there. |
| Interviewer: | Yeah, you said the boat left. |
| Miller: | Yeah, because my cousin, I couldn't get him up, and my uncle had the bakery, Sam had the bakery and so my aunt made me sandwiches and the whole bit and the whole kit and caboodle, to bring along and I couldn't get Joey, Joey get up, we're going to be late. By the time we got there, goodbye boat. |
| Interviewer: | But it all worked out in the end. |
| Miller: | It all worked out in the end, right, exactly, yeah. I would have really liked to enjoy that, you know. I said to my husband, let's go on the, but then he couldn't go on it. It wasn't, it wasn't good anymore. |
| Interviewer: | Yeah, we went there for my first grade class trip. We did the Circle Line, yeah. |
| Miller: | It's not good, right? |
| Interviewer: | Well, I don't know. That was a long time ago. |
| Miller: | But he said no, not to go. All the years that I wanted to see the Statue of Liberty. |
| Interviewer: | Yeah. |
| Miller: | I never got there either. |
| Interviewer: | Oh. |
| Miller: | My daughter Amy went. They had to buy tickets from Oregon, the three of them, my granddaughter and her boyfriend, and Amy, they went to see the Statue of Liberty. |
| Interviewer: | Uh-huh. |
| Miller: | They sent me pictures, because you're not here anymore, they take it off and she showed me pictures and everything and then they sent to Ellis Island. |
| Interviewer: | Uh-huh. |
| Miller: | And she got all the information from my grandmother and sent me on the iPAD. |
| Interviewer: | Yeah, yeah. |
| Miller: | So, that was very interesting. |
| Interviewer: | It is interesting. |
| Miller: | When my grandmother came, she only came with my grandfather, I mean, my grandfather was here already, but I'm saying it was the three of them, you know, my father, Jack, and Anne were here, like you just mentioned. |
| Interviewer: | Yeah. Do you know why they came here? |
| Miller: | I guess because of the war, with the Nazis. |
| Interviewer: | Well, no, I mean, your family came much, much earlier. |
| Miller: | Oh maybe that's because it's my mother's side. And the funny part, my mother, my mother's mother had nine children, very interesting, everyone, like my mother had one, and there was nine, everybody had only one child. |
| Interviewer: | Oh. |
| Miller: | Isn't that? |
| Interviewer: | Yeah. |
| Miller: | Isn't that weird? I always thought about that. |
| Interviewer: | Yeah. |
| Miller: | But now I can't ask because they're all gone. |
| Interviewer: | Of course. Because at the point they came, you know, there must have been some attraction to Paterson… |
| Miller: | There must have been. |
| Interviewer: | The silk mills. |
| Miller: | Maybe there was advertisements, who knows. |
| Interviewer: | Yeah, that's true, maybe. |
| Miller: | It could be advertisements. Advertising would draw you. |
| Interviewer: | That's true. |
| Miller: | So, well, I'm glad I'm here. |
| Interviewer: | Yeah, if they hadn't come… |
| Miller: | Yeah. I don't know where I'd be. [laughs] |
| Interviewer: | Is there anything else you want to share about life in Paterson? |
| Miller: | I think we've, I think we exhausted everything. I think we did everything. |
| Interviewer: | Okay, then I'll wrap up and just say thank you so much. |
| Miller: | You're welcome. Anytime. If I remember anything, I'll give you a phone call or something like that. |
| Interviewer: | Okay, that'd be great. |
| Miller: | All right? I'll give you my phone number also. I have to, oh, I do have it here. |
| Interviewer: | Okay, so thanks, Helene. |
| Miller: | Okay, you're welcome. |
| | END |
Last updated: June 18, 2019