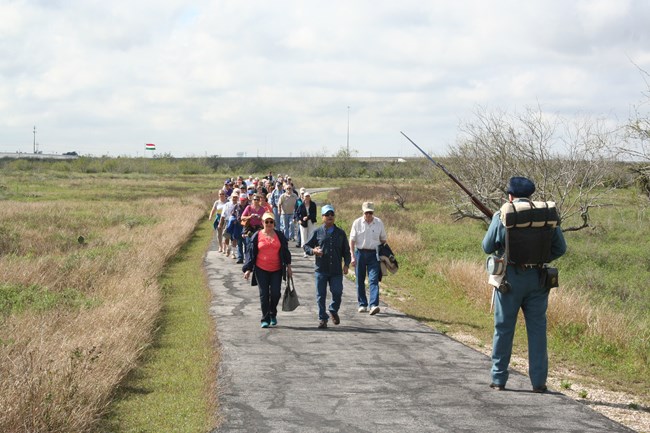 "Halt! Proceed and identify yourself!"
For a brief moment, the small group of tourists appeared confused by the challenge from a U.S. soldier. But they quickly realized that they had become a part of the monthly living history event.
As Palo Alto Battlefield continues to develop living history interpretation, it seeks to make events more active and interactive for visitors. In the initial season, living history coordinator Rolando Garza focused on recruiting, training, and equipping the troops. Now, with these logistics in place, Daniel Ibarra is taking over a strong program and moving it to the next level.
The tour group immediately saw the change. In the past, visitors would have approached, observed a demonstration of 19th century weaponry, and received a brief lecture about the equipment and the men who used it. This group received a much more intensive experience. They initially met the officer in charge of the military camp then proceeded to a series of conversations with and demonstrations by "real" 19th century U.S. and Mexican soldiers. They even experienced a brief scene where a U.S. deserter was tracked down, arrested, and brought to justice.