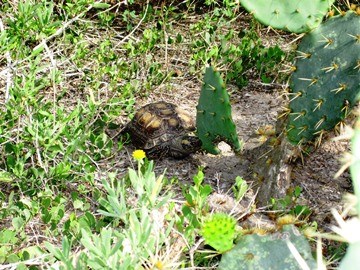 A Healthy Park
Doctors use thermometers, X-rays, and MRIs to check the health of their patients. At Palo Alto, researchers rely on tortoises to monitor the natural health of the park.

Every six months since 2008, the park's natural resource specialist, Gulf Coast Network staff, other partners, and volunteers have combed the brush and prairies of Palo Alto. Their goal is to locate, mark, and track Texas tortoises living in the park.
Vital Signs
The Texas tortoise is very sensitive to environmental changes. This makes it a good indicator of the ecological well-being of the park. For example, evidence of increased tortoise mortality can indicate habitat decline long before other more hardy species are affected.

On the other hand, a thriving or growing tortoise population, especially the presence of young tortoises, suggests the habitat remains relatively stable. By tracking the health and numbers of tortoises at the park, Palo Alto hopes to keep tabs on the "vital signs" of the battlefield and surrounding lands.