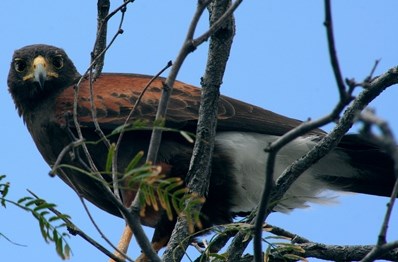 Birds of a Feather
The abundance of wildlife makes the battlefield an attractive spot for nature lovers. Bird watching has become a particularly popular pastime at the park. Visitors have spotted birds of prey like the Harris Hawk, Aplomado Falcon as well as colorful species like the Roseate Spoonbill.

As the park continues to make more of the battlefield accessible to the public, it seems certain the site will draw many bird watchers and nature enthusiasts. Their numbers may even rival those who visit for the site for its historical importance.
Historic Sightings
Many of the men who fought on this field in 1846 also had an interest in the birds of the area.

Captain John Porter McCown, for example, is credited for discovering eight new species including the Black-bellied Whistling Duck, Green Kingfisher, Vermilion Flycatcher, Verdin, Cactus Wren, Pyrrhuloxia, Great-tailed Grackle, and Olive Sparrow.

Captain Jean Louis Berlandier of the Mexican Army was a noted naturalist who documented numerous birds of the Rio Grande Valley. As you visit the fields where these soldiers fought, you may sight some of the birds they might have seen that day. Use this checklist to record your findings.