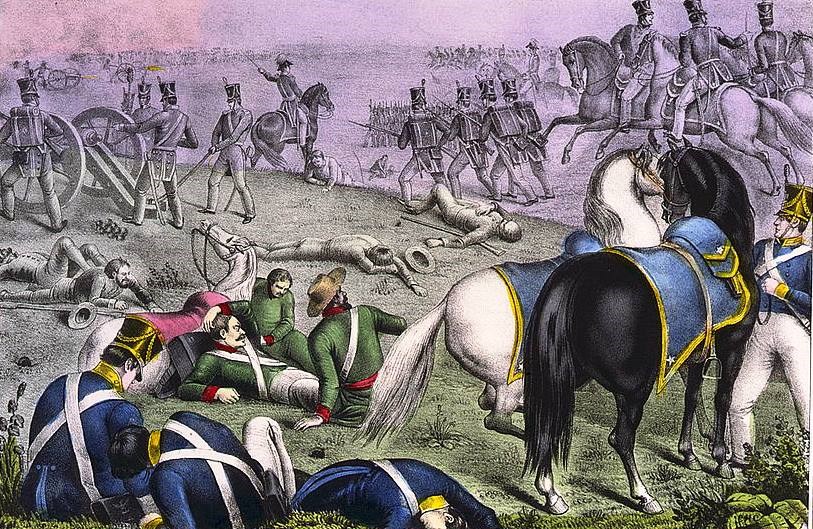 The Clash Continues
Resaca de la Palma, also known as Resaca de Guerrero, is an old, dry river channel of the Rio Grande. It is one of many long, water-filled ravines left behind by the shifting course of the winding river. The old pathway was lined with dense brush and its bed was dotted with pools of water. The Mexican Army hoped these natural features would limit any attack against troops positioned there.

Following his retreat from Palo Alto on May 9th, General Mariano Arista occupied this site in force. He blocked the Point Isabel-Matamoros road crossing with artillery and placed infantry troops along banks of the resaca. The heavy brush offered his troops abundant protective cover. Cavalry troops were kept in the rear as a reserve force. Mexican troops hoped to force an infantry battle in the dense chaparral instead of the open-field artillery duel that had devastated them at Palo Alto.
Close Quarters Combat
General Zachary Taylor followed Arista's force from Palo Alto to the old resaca. Taylor left his wagon train safely entrenched at Palo Alto so he could focus all of his attention on Arista's force. Taylor and his troops arrived at Resaca de la Palma around 3 p.m. and the general immediately ordered a charge on the Mexican positions.

As U.S. artillery fired on Mexican batteries guarding the resaca crossing, U.S. infantrymen rushed into the brush on both sides of the road. They engaged Mexican soldiers in furious hand-to-hand combat.

Many of Taylor's soldiers had experience fighting in similar conditions and were well prepared for this fight. U.S. soldiers also had the good fortune to find a path that led them over the waterway and around the most heavily fortified areas.

Once across the resaca, they encountered more Mexican soldiers. These soldiers had little training in close-quarter fighting, had not eaten in twenty-four hours, and were demoralized by the carnage at Palo Alto. Mexican forces put up a gritty fight but in less than an hour U.S. forces spilled from the brush into the clearing that housed General Arista's field headquarters.