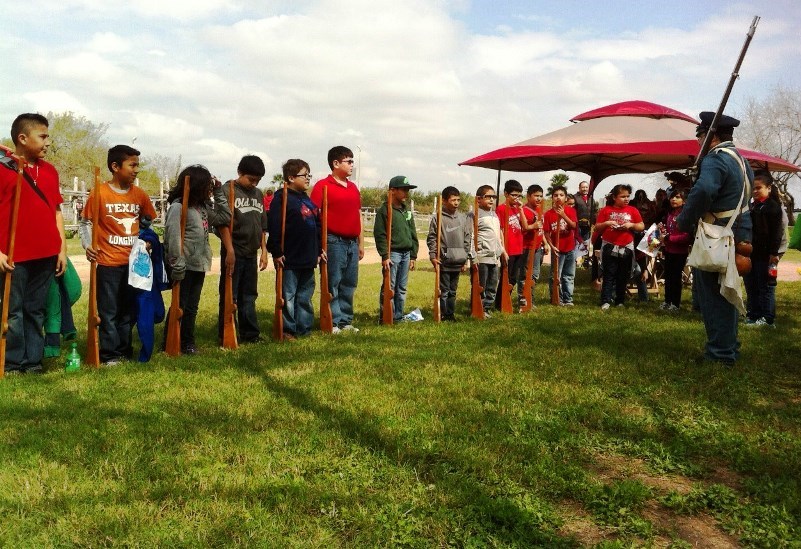 Can't Make It to the Park?
We'll Come to You!
Looking for and engaging educational experience for your students? How about a Ranger program right in your classroom? Palo Alto Battlefield is pleased to offer a variety of offsite programs at area schools and community centers. Also, inquire about having a Ranger presentation at your next career day or community event.

Offsite Ranger program inquiries should be made at least one month in advance. Presentation venue must be within 30 miles of the park. For information about availability and scheduling, call 956-541-2785 x 333 or email us.
Programs
Flying Artillery
Give your class a lasting impression of the U.S.-Mexican War. Audiences will learn what it was like to be on a U.S. light artillery crew. This program is best suited in an outdoor situation and runs approximately 20 to 30 minutes. A short pre-visit meeting with a Ranger at your campus is highly suggested.
Uniform Appearance
The modern uniforms of the U.S. and Mexican armies are very different from the ones worn during the Mexican War. Students will try-on replica uniforms, learn of the uniforms used by the different branches of the military, and compare the replicas to modern clothing. Program runs approximately 20 to 25 minutes.
Battlefield Archaeology
Archaeologists have discovered artifacts that help tell the story of the Battle of Palo Alto. In this activity students examine replica artifacts to learn about the soldiers who fought in the battle.
National Park Service: Past, Present, & Future
Learn the history of the development and mission of the NPS, discover how you can enjoy parks today, and help protect them in the future.
History In Our Nature
The battlefield has been home for plants and animals since the war. Learn about the park's wildlife and discover how restoring the historic landscape protects native habitat and species.
Special Topics
If you are looking for a park ranger to speak on a specific topic relating to the Battle of Palo Alto or the U.S.-Mexican War, please email us.