Picnic Shelters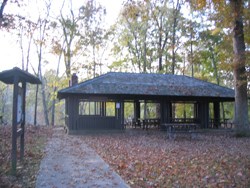 The picnic pavilions or shelters at Alley Spring, Burr Oak, Big Spring, Peavine, and Round Spring have been the site of many family reunions, weddings, church socials and other events over the years.
All shelters provide picnic tables, electricity, fire grills and water.
In the past, the shelters were reserved by calling or visiting the park on the usually cold January morning when reservations "opened up." This is all changing, now you can make your reservations from the comfort of your own home, and pay with a credit card as well.
All shelter reservations will now be made online at www.recreation.gov or by calling 877-444-6777. We will no longer be able to take reservations through the park office. However, park staff will always be glad to talk to you about conditions, amenities or concerns you have about the shelters, as Recreation.gov staff do not generally have local knowledge. (We apologize if there is some confusion during this transition.)
The new system will accept credit cards, which the park previously couldn't, as well as checks. Payments will be sent directly to Recreation.gov now, not Ozark Riverways or the National Park Service. (In other words, we can no longer accept checks or cash at the park office in Van Buren.)
We apologize for any inconvenience. This is a new initiative by the Federal Government to provide "one stop shopping" for all Federal recreation reservations nationwide. Hopefully this new system will make planning your future events easier and more reliable. This system will also allow park visitors to make campground reservations at National Parks, National Forests and other Federal recreation areas across the country.
If you have any questions, please fell free to call the park office at 573-323-4236, ext 0.

Quick Reservation Links:
Last updated: April 10, 2015