River Levels and Weather
For the most up-to-date information about river closures during flood conditions, please visit our
Facebook page
, or contact park headquarters at 573-323-4236, or park dispatch at 844-460-3604.
"Everybody talks about the weather, but nobody does anything about it." - Will Rogers
Please use the following chart to estimate floating conditions based on river level averages and (River Closure)-flood stages. Follow the links for the latest river gauge levels as they currently exist.
River & Flood Levels
A great river adventure requires good planning. Thunderstorms are frequent and sudden in the summer months and a downpour can ruin an otherwise enjoyable outing.


Flash floods are a risk at all times of the year. While in the area, listen to local radio stations for the latest weather. In general, the National Park Service will close the river to non-motorized vessels when the river level reaches two feet above normal. Those "flood levels" are indicated at the right. For the most up-to-date information about river closures, please visit our Facebook page. (A link is provided on the Park Home page.)

In flood conditions, the river runs faster, carries debris and is very treacherous. On land, flooding can make road crossings dangerous as well, never drive across a flooded roadway! Most flooding deaths occur in cars that are swept away.

Remember, you are responsible for your own safety. Proper planning and alertness to your surroundings should keep the weather where it belongs - as a topic of conversation, not a cause of harm.

The links on the above right lead to automated river level stations in several areas of the park. They will usually show two graphs:

Gage Height: Water level at the river gage. Compare the "flood" level cited to the right with the river level on the graphs (click river area of interest) to find if the river is up. If the river is at flood level, it is likely to be closed to non-motorized vessels. If it is at "Flood Level" or is rising toward it, dangerous conditions either exist or are likely.

Discharge: This is the volume of water moving past a certain point. In general, the larger the volume, the faster water is moving downstream.

Weather Forecast


Remember to pack dry clothes in a watertight container such as a trash bag! In cooler weather, you might want supplies to start a fire as well.
Missouri DNR Water Resources Center River and Lake Level Observations,
Forecasts and Precipitation
DNR gathers data from water level and precipitation recording devices in
Missouri maintained by the Missouri Department of Natural Resources, the
National Oceanic and Atmospheric Administration and U.S. Geological Survey
and makes dynamic maps of this data available at this website.
http://www.dnr.mo.gov
USGS WaterAlert
The U.S. Geological Survey WaterAlert service sends e-mail or text messages
when certain parameters (such as Gage Height) measured by a USGS
data-collection station exceed user-definable thresholds. Go to this
website and select the gage and gage height and you will receive a message
when the gage is above that level.
https://water.usgs.gov/wateralert/
USGS "Water Now" System
The USGS provides a method for you to query a USGS gaging
site via email, cell phone text message, or handheld device for gage height
and streamflow. Send your request and in a few minutes you
will get a reply showing the latest river stage and streamflow. If you
program the email address in your contact list all you have to do is type
in the gage number and send. Go to this website for instructions.
https://water.usgs.gov/waternow/
Current and Jacks Fork USGS gage numbers for use with StreaMail:
07064440 Current River at Montauk State Park
07064533 Current River above Akers
07067000 Current River at Van Buren
07067500 Big Spring near Van Buren
07065200 Jacks Fork near Mountain View
07065495 Jacks Fork at Alley Spring
07066000 Jacks Fork at Eminence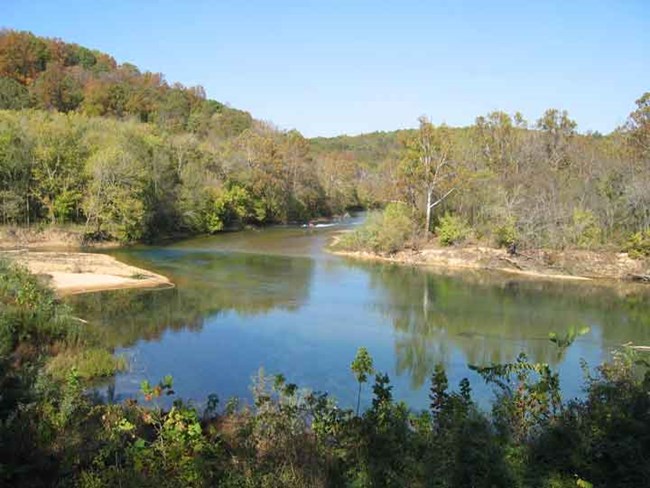 "Wild rivers are earth's renegades, defying gravity, dancing to their own tunes, resisting the authority of humans, always chipping away, and eventually always winning." - (Richard Bangs & Christian Kallen, River Gods)
Last updated: June 9, 2020