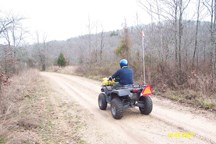 ATVs, also known as Four Wheelers and UTVs, can be a lot of fun. They can also be dangerous and damage the environment when not used responsibly.
ATV/UTV Regulations:
The Ozark National Scenic Riverways enforces all state and federal laws regarding the use of ATVs and Utility Vehicles in the park. These rules are for the protection of the fragile natural resources the park was established to protect. ATVs and UTVs are prohibited in most of the park except on county roads.
ATVs and UTVs may only be operated by licensed drivers.
May only operate on county-owned roads with a valid permit.
ATVs and UTVs are not permitted on any closed road, service road, power line right-of-way, off established county roads, on state highways, on any park-owned roads, or on any campground road.
ATVs and UTVs are not allowed on any gravel bar, beach or in the river unless at an approved river crossing and then only to cross and continue on.
No ATV operator is allowed to carry passengers unless the machine has been specifically designed by the manufacterer to carry more than one occupant.
Every ATV must be equipped with an adequate muffler and an approved spark arrestor, good operating brake system, a slow moving vehicle emblem a safety flag attached to the rear of the vehicle and a lighted headlamp and tail lamp. (note UTVs do not requre the safety flag or triangle.).
Open container and DWI/DUI enforced.
The locations of all legal roads and trails within the park boundary were established by the
1991 Road and Trails Plan
. Note you can only ride on County Roads, not park owned roads. Please study the maps in the appendix to this document to see specifically where you can and cannot ride. A good rule of thumb: if you cannot drive a two wheel drive pick-up truck on a road, it is probably
NOT
a legal county owned road and you shouldn't ride on it. For maps from the 1991 plan (This is a large file! Maps are in the Appendix.)