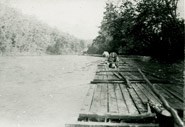 On September 2 a group of Ozark rivermen will float a 200-foot long raft made up of some 250 railroad ties six miles down Current River.
The voyage will follow the route of the last commercial tie raft which floated 75 years ago from Bay Mill Eddy to the lumber yard at Doniphan.
The crew will guide their 20-ton craft with wooden poles and "sweeps," fore and aft. The timbers will be in three joined sections which will allow the raft to bend around the sharp curves and treacherous snags for which Current River is famous.
The raft, accompanied by two vintage johnboats, will stop at the Deer Leap Campground Picnic Area for an hour or so at mid-day for public viewing. The event at Deer Leap will also feature an exhibit of historic photos prepared by the Ripley County Historical Society, the Ozark National Scenic Riverways (National Park Service) and the Doniphan Neighborhood Assistance Program.
The float will end between 4:00 and 5:00 p.m. when the craft passes under the Highway 160/21 bridge at Doniphan. It will then be "snubbed up" to the west bank and dismantled.
At the height of the tie production boom in the early 1900s rafts of up to 1,000 ties were frequently floated downstream to the railhead at Doniphan which for many years was known as "the railroad tie capital of the world."
For further information, call the Current River Heritage Museum at 573-996-5298.