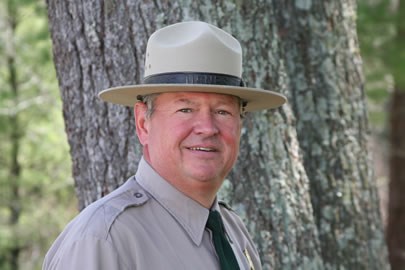 Reed E. Detring has been appointed as the new superintendent of Ozark National Scenic Riverways. He succeeds Noel Poe, who retired from federal service late last year. Detring, currently serving as superintendent at Big South Fork National River and Recreation Area, will assume the new post on June 22nd.
"Due to the breadth of park management experience Reed has, and his ability to deal with similar publics and issues as are faced at Ozark -- water quality, concessions management, and horse use, to name a few -- we feel he is best suited for the park," said regional director Ernest Quintana. "We are delighted to welcome him as part of our Midwest management team."
Detring's more than 32 years with the NPS began when he served in seasonal appointments as a park technician at both Fort Vancouver National Historic Site and at Death Valley National Monument. His first permanent position was as a park technician at Castillo de San Marcos National Monument, then in the same position at Fort Matanzas National Monument.

Detring then served as a park ranger and supervisory park ranger (district interpreter and sub-district ranger) at Glacier National Park, as supervisory park ranger (chief of interpretation and resource management) at Canyon de Chelly National Monument, as superintendent at El Morro National Monument, and as supervisory park ranger (chief ranger) at Everglades National Park before assuming his current position.

In addition, Detring served detail assignments as acting chief interpreter at Glacier, as acting superintendent at Fort Smith National Historic Site, and as acting assistant superintendent at Jean Lafitte National Historical Park and Preserve.
A native of St. Francois County, Missouri, Detring earned his bachelor of arts and master of arts degrees, both in history, from the University of Missouri. He is married to Margery Sievert Detring, an Ashland, Missouri, native and University of Missouri graduate. The Detrings have two grown children, daughter Erika and son John.
"Margery and I are extremely excited about moving to Missouri and look forward to getting to know and working with the folks who live in the area," said Detring. "The Current and Jacks Fork Rivers are a fantastic resource and we are thrilled to have the opportunity to live there. We both have warm childhood memories from family visits to the rivers, springs and state parks now part of Ozark National Scenic Riverways."