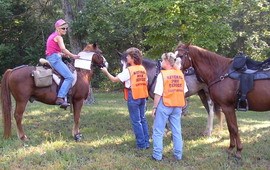 Ozark National Scenic Riverways' Volunteers-In-Parks (VIP) Horse Patrol program is about to complete its first season. The program, established in April of 2007, consists of volunteer members who conduct mounted horse patrols of the designated horse trails and roads within Ozark National Scenic Riverways just east of Eminence.
The volunteer riders provide park visitors with information, maps, brochures, assistance when needed and encourage fellow riders to use responsible trail etiquette. They also conduct light trail maintenance, collect trash and identify trail hazards and resource damage to park staff.
The members of the VIP Horse Patrol Program receive training on the history and mission of the National Park Service and Ozark National Scenic Riverways, water quality studies, radio use, park regulations and other topics. Both horse and rider also complete an assessment ride to evaluate their skills on the trailbefore they are assigned to patrol the trails. Volunteers are expected to commit eight hours of volunteer time a month and wear the Trail Patrol uniform.
If you are interested in volunteering for the Horse Patrol or if you would like information on other volunteer opportunities at Ozark National Scenic Riverways, visit the park's website: www.nps.gov/ozar and click on Support Your Park - Volunteer. For more information about volunteering for the Horse Patrol you may call park headquarters at 573-323-4236, ext. 231 or click here.