Rocky Falls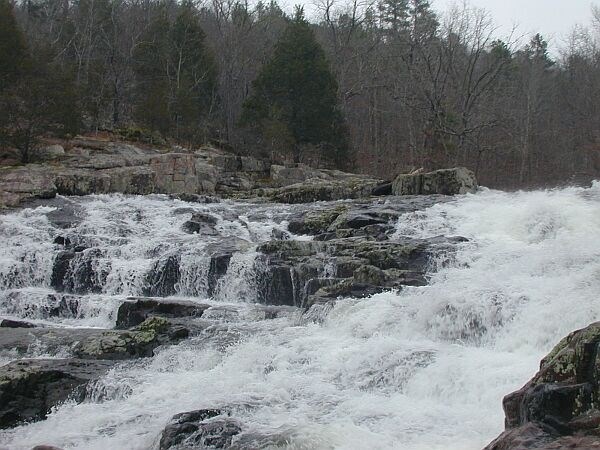 Few places in the Ozarks provide a glimpse of earth's turbulent past as well as Rocky Falls. The reddish-brown rock you see here is rhyolite porphyry. It formed as molten rock deep within the earth and flowed onto the surface about 1.5 billion years ago. At the time, no living thing existed to see the awesome flow of glowing hot lava slowly advancing over the barren landscape.
Normally, a stream eroding softer dolomite, a type of limestone, would make a wider valley for itself. Since the rhyolite is harder, the stream tends to stay within whatever cracks that it finds, deepening them only a little by erosion. Thus a"shut in" is formed where the harder rock has "shut in" the stream. Farther downstream, past the constricting rhyolite, the stream valley widens once again. This allows the stream to expand into a pool.
Rocky Falls can be visited year round. It is located on Route NN, off of Route H east of Eminence and Winona. It has a walking trail, bathrooms, picnic tables and fire grills.