Monkshood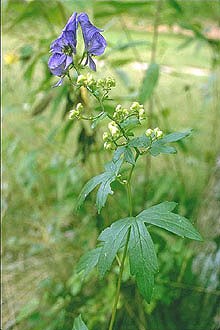 by Arlesha Mays,
Missouri Department of Conservation
When botanists think of areas with a wealth of plant species still to be discovered, they think of the tropics. But some Missouri botanists recently found there still are discoveries to be made right here at home. While conducting a biological inventory of public land near the Current River in Shannon County, they discovered a genus of wildflower never before seen in Missouri, monkshood.

"It's a wildflower that is very different from any others we have in the state," says Missouri Department of Conservation Botanist Tim Smith. "It's a blue flower that has a hood at the top of the flower. It's a little like a delphinium overall, or a larkspur, except that monkshood has a distinctly different flower shape."

The remote location where the flower was discovered leads botanists to believe that the monkshood population is a native occurrence. The site is not near any old homestead where the flower could have been used as a landscape planting. Monkshood is native to Georgia, Kentucky, Maryland, North Carolina, Pennsylvania, South Carolina, Tennessee, Virginia and West Virginia with the nearest previously known location in southern Indiana.

Smith says good timing played a role in discovery of the monkshood. He says the flower was in bloom at the time biologists were conducting their plant inventory. Failing to recognize the monkshood's unfamiliar looking vines and leaves, they looked for a specimen with a flower or other characteristic that would help them identify the plant.
Once they found some flowering plants, they knew they had found a flower which had never before been recorded in Missouri. Further examination of part of a plant by George Yatskeivych at the Missouri Botanical Garden showed that the wildflower found was Aconitum uncinatum, the wild monkshood.

Smith says the discovery is important because, "It reminds us that there is botanical work still to be done in Missouri. It also is important to know what plants grow in the state so that we can prevent them from becoming threatened or endangered. It's part of our flora, and we are charged with protecting the diversity of the flora of the state."
Smith says similar habitats near the one in which the monkshood was discovered will be examined to see if the wildflower occurs in greater numbers than initially discovered. Please remember that all wildflowers in Ozark National Scenic Riverways are protected by law. Digging or picking them deprives others of their beauty.
More on Rare Ozark Wildflowers

(Courtesy Missouri Department of Conservation.)

For more on the Monkshood, visit the USDA Plants Database.
Last updated: January 5, 2018