Ozark Hellbender
Hell-bent on Saving an Unique Salamander
by Jessica Luraas, Biological Technician
What are hellbenders?
While their name may sound scary and they might look strange, the Ozark hellbender is a unique and environmentally sensitive species found only in the clean, clear rivers of the Ozarks. Hellbenders are large, strictly aquatic salamanders that can reach lengths of one to nearly two feet. They have flattened bodies, which helps them slide under rocks for cover and remain stationary in fast moving water. Part of what makes them look so peculiar is the fleshy folds of skins along their sides. These skin folds actually provide surface area so they can breathe under water. Hellbenders like cold water with high oxygen levels, especially spring-fed rivers like the Current and Jacks Fork. They are primarily nocturnal animals, only coming out at night to feed primarily on crayfish. Hellbenders have a long life span compared to most salamanders, sometimes up to 30 years, and they don't even start reproducing until around age 7.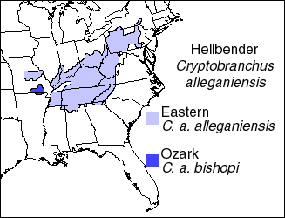 Why are they disappearing?
The Ozark Hellbender in 2011 was placed on the federal endangered species list because populations are declining throughout its range in the Ozarks, particularly over the last twenty years. The hellbender population is also getting older with little indication of consistent reproduction. There is a lack of juveniles in the population, which indicates that reproduction may have been limited for some time. Scientists are working to understand why the population is declining and what is causing this lack of reproduction. Hellbenders have very specific habitat requirements, which makes the species extremely vulnerable to habitat disturbance and changes in water quality.
What can you do to help?
In the past, hellbenders were often thought of as dangerous, poisonous, or even deadly, but in reality they are shy, harmless animals that are an important part of the Ozarks river systems. If you see a hellbender, leave it alone and consider yourself very lucky for getting a glimpse of this rare species.
Hellbender Links:
Back to Science and Nature Index
"Our precious heritage of natural and unspoiled beauty and unpolluted streams, once exhausted and destroyed, can never be replaced. . . . We have a golden opportunity to save the few remaining scenic and wild rivers as part of our nation's heritage for this and coming generations." - (Alvin O'Konski, Congressman from Wisconsin (regarding the St. Croix River))


Last updated: January 14, 2020