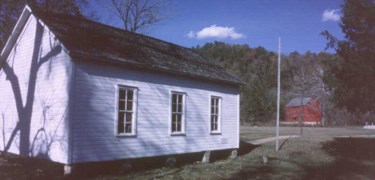 by Bill O'Donnell
A visit to Storys Creek School on the grounds of the Alley Mill allows a glimpse of a time gone by. The little white, one room school house is an image of pioneer education near and dear to most Americans. It exemplifies a simpler time, a time when life was less stressful and education more effective. Unfortunately, like many such romantic images, the truth is both greater and less than our imaginings.

Unpainted log schools were the first on the vast frontier, followed by clapboard structures, some painted, some not. When they were painted, white was the most common color, but almost any color you can imagine was applied to some school somewhere. Missouri had strict regulations about the color of the schools. White was mandatory forall wooden schools, except log ones of course. The interiors had to be painted a light blue.

The one room school house is not the exclusive property of the pioneers. They continued in use in some areas until the very recent past. They were in widespread use in rural Missouri until 1957, when they were consolidated with town school districts. In the Missouri Ozarks,consolidation took place around the end of the 1950s, with many one room schools operating into 1959. A few parochial one room schools continue in Missouri, Pennsylvania, Ohio and other states to this day.

The rugged landscape of the Ozarks made travel difficult in the early days ofsettlement. Roads were few and poor, usually little more than wagon ruts. Unlike most other areas, the Ozarks also lacked centralized towns and cities. People tended to live on widely scattered homesteads, farming and hunting for their needs, only rarely going to commercial centers for trade goods they couldn't make on their own.