For Teachers
Educational Activities
The National Park Service offers a variety of free educational activities to legitimate schools and educational institutions. These may be classroom visits (within the local area#) or visits by your class to the park. We recommend combining a classroom visit with a field trip for best retention of material. Please call us to arrange activities.
If you don't see what you need in the "menu" below, please call us anyway. We have staff knowledgeable about many subjects and can customize a program for you. Take a look at our program offerings for school districts below. Also, check out the GLE page to see how our programs relate to state standards.

Current Educational Programs:

Alley Spring: Alley Mill Hamlet
Visit the Storys Creek School for a lesson in a one-room school, barter at the General Store, learn about the operation of a 19th century steel roller mill, and take a hike along the Alley Spring Branch Trail.

Round Spring: Cave Scientist Field Trip and Hiking Through History on the Ozark Trail
A variety of hands-on, inquiry-based activities are performed by the students including collecting data by performing water quality, soil and weather testing, and vegetation and animal identification in the cave and outside. Schedule a pre-site visit at your school beginning in February before visiting the cave in May.

Big Spring: Life as an Ozark Settler
Students will learn about the Ozark culture and landscape, and experience a variety of activities, including early homemaking, whittling, fence building and an educational hike around Big Spring.

Rocky Road: The Geology of the Ozark Riverways
Students will learn the geology and geologic processes that shaped the Ozark Riverways region, including karst experiments and a visit to Alley Spring to conduct rock classification data.

Batty about Bats
Students will learn about the specialized structures and senses that help bats survive in a unique habitat. Discover this fascinating creature that benefits humans and learn how we can help save them, including construction of bat houses and habitat improvements.

Habitats of the Ozark National Scenic Riverways
Students will learn about the various habitats of the riverways and species that inhabit them. Discover rare, endangered and endemic species with specialized structures and mechanisms that help them reside in their select habitats. Students have the opportunity for a data collection field trip and culminating habitat activity.

NPS Career Programs
Students will learn about National Park Service opportunities and career exploration. They will learn to identify their interests and skills, and how to apply for jobs.

National Park Service: America's Best Idea
Students will learn about the creation and significance of the National Park Service and Ozark National Scenic Riverways.

Service Learning Trips
Teach your students about stewardship by bringing them to volunteer in the park. Learn more about volunteer opportunities and job shadowing.

Junior Ranger Day at Alley Spring (TBA)
This event brings grade school students together with educators from statewide natural resource agencies for a fun, active, and exciting day of outdoor educational activities.
Call Dena Matteson
(573) 323-4814
. These activities are popular and our staff is limited, so please call ahead!
(E-mail "Ranger Dena")
Are you a 4th grade teacher? The National Park Service has launched an exciting program for 4th grade students, which will enable them to receive a fee-free access pass to all national park unita. Students can get their online voucher by completing a simple online activity, or as a 4th grade teacher, you can do this program with your students to earn a pass for everyone. Learn more about the Open Outdoors for Kids program!
Visiting with your class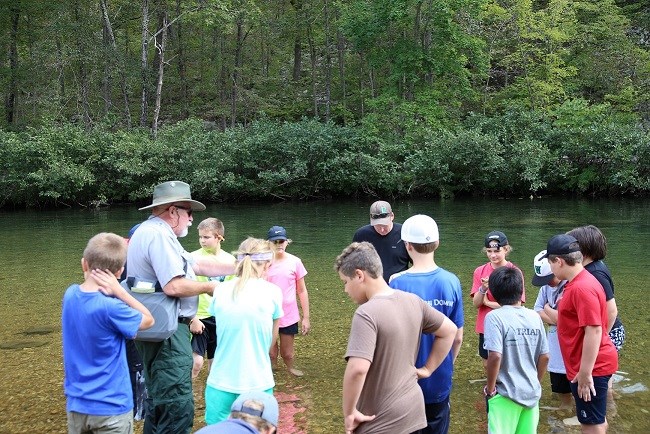 NOTE TO TEACHERS:
Educational Activities are meant to further your educational objectives. They are not intended to be primarily recreational, although we hope everyone has fun learning! We want teachers to be involved. We are open to your ideas and suggestions for developing programs to meet your needs. Please contact us with your needs and ideas.
Our schedule fills up quickly, so please call to reserve programs as early as possible. We prefer to serve your class in the spring and fall, although any time of year is possible. There is no fee for these activities. A free Teacher's Guide to Caves & Groundwater, called More Than Skin Deep is now available online in an abridged version. We also offer a more general Teacher's Guide to the whole park called The Rivers and More. For an unabridged printed version please send an e-mail or call (573) 323-4236, ext 0.
We are never far from the lilt and swirl of living water. Whether to fish or swim or paddle, of only to stand and gaze, to glance as we cross a bridge, all of us are drawn to rivers, all of us happily submit to their spell. We need their familiar mystery. We need their fluent lives interflowing with our own." - (John Daniel, Oregon Rivers)


Last updated: January 14, 2020