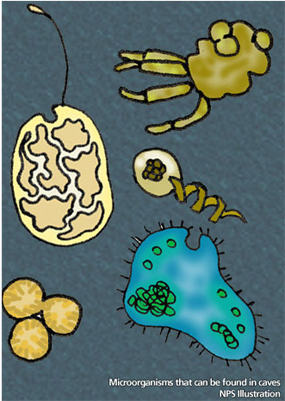 The Cave Food Chain
All life depends on sunlight, even in the darkest areas of a cave. No green plants grow here because they need light for photosynthesis. On the surface, green plants make food. Cave animals must depend on occasional floods to wash leaves, twigs and plant debris into the cave. Another food source is provided by droppings from animals that go outside to feed then return to the cave to sleep or raise their young. The droppings from animals, such as bats and crickets, may provide the only major food source in some caves. Few animals can directly feed on these droppings. Instead, bacteria and fungi decompose these materials into simple foods and nutrients.

Fungus-eating insects, such as beetles and mites, feed on the fungi and bacteria on animal droppings and plant debris. These animals then become the food supply for the larger predators like salamanders or crayfish. The droppings from larger cave animals replenishes the food supply for fungus and bacteria. Thus the food chain continues.

All species in the cave system are dependent upon each other for survival. Remember, the number of animals in a cave is far fewer than their relatives on the surface. For these reasons we remember: DO NOT DISTURB life within a cave.