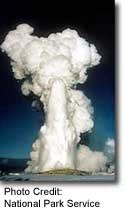 As defined by the National Park Service Organic Act of 1916, the purpose of national parks is:
"To conserve the scenery and the natural and historic objects and the wildlife therein and to provide for the enjoyment of the same, in such manner and by such means as will leave them unimpaired for the enjoyment of future generations."
National Park Fun Facts: There are national parks in every state except Delaware. There are even national parks in Guam, Puerto Rico, the Virgin Islands and the US Pacific territories.
Among the National Parks in Missouri are the Jefferson Expansion National Memorial, also known as the Gateway Arch in Saint Louis, George Washington Carver National Historic Site and Wilson's Creek National Battlefield. Illinois has Lincoln's Home National Historical Park and Indiana Dunes National Lakeshore. Arkansas has Hot Springs National Park and Buffalo National River.
Some national parks are called National Monuments, National Seashores, National Historical Parks, National Battlefields, National Recreation Areas, National Scenic Rivers, and National Preserves. The different names reflect different purposes and histories. Areas with the words "National Park" in the name are generally the most strictly preserved, "National Preserves" have the most leeway for non-preservation uses such as mineral extraction.
National Forests are not operated by the National Park Service, but by a separate agency known as the US Forest Service. Their mission is to provide renewable sources of lumber and other forest products and to manage them so that there will always be an ample supply of these important resources. Yellowstone was the first National Park in the world. Most countries now have national parks fashioned on the American example. Some famous foreign national parks are Kruger in South Africa, Stonehenge in England and Banff in Canada.
Ozark National Scenic Riverways became a reality in 1970. In 1964 Congress authorized the establishment of Missouri's largest National Park Service area. It was originally conceived as a plan to prevent the damming of the Current and Jacks Fork Rivers. The state of Missouri donated three state parks: Alley Spring, Round Spring, and Big Spring to the federal government to be the anchor points for the new Ozark Riverways. The land along the rivers was then purchased from a variety of owners to connect the three parks into one large National Park.
Today, Ozark Riverways sees over 1.5 million visitors each year who come to canoe, camp, hunt, fish and enjoy the natural splendor of the Ozarks.