Current River Challenge
One River, One Trail, Three Great Parks...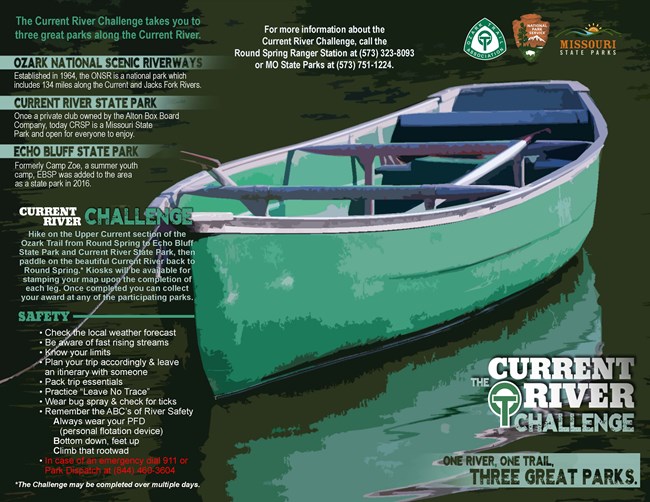 The Current River Challenge is a unique hike-float opportunity that visitors can enjoy at any time. Ozark National Scenic Riverways and Missouri State Parks partnered to promote hiking and floating between Round Spring, Echo Bluff State Park and Current River State Park in celebration of the recently completed trails in the area. The challenge consists of a 4 mile hike from Round Spring to Echo Bluff State Park, another 4 mile hike from Echo Bluff State Park to Current River State Park, and a self-furnished 4 mile float from Current River State Park to Round Spring. The challenge can be done in any particular order. The challenge can be done at any time and we encourage participants to
not try to complete the challenge all in one outing
. Participants can pick up their challenge cards at Round Spring Visitor Center or Echo Bluff State Park and collect stamps at each location at the end of that leg. For more information about this event, call the Round Spring Ranger Station at 573-323-8093 or Missouri State Parks at 573-751-1224.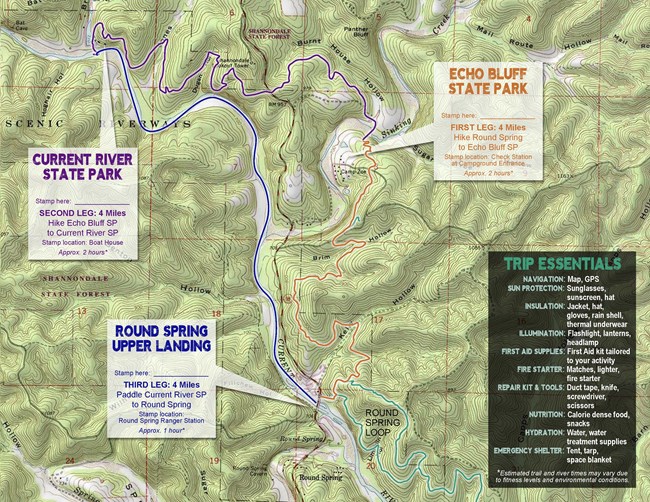 Please visit our
hiking and paddling safety page
before participating in the Current River Challenge.
Last updated: June 13, 2021