Basic Information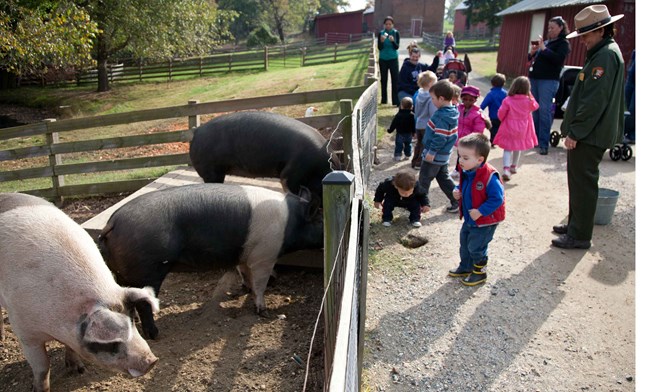 Tips For Your Visit
Cooler days are often the best days to visit Oxon Hill Farm if you're interested in seeing farm animals or wildlife out and about. There are still lots of things to see and do on hotter days, just make sure to keep hydrated and take frequent breaks, especially with young children. It's always a good idea to check the weather forecast before you leave home in order to prepare accordingly.
Fall and spring are peak times for school groups, but family groups are welcome to join the programs if space is available.
If you'd like to participate in our daily programs or special events, you can call ahead at (771) 208-1536 to make sure weather or other unforeseen circumstances have not affected the schedule.
Be sure to stop by the Visitor Barn during your visit, Park Rangers there will greet you and can answer any questions you may have.
Be Prepared
Your experience at the park will be most enjoyable if you are comfortably dressed. Make sure that you wear appropriate shoes and clothing. Closed-toe shoes are recommended, sneakers or comfortable boots are best. Dress for the season, light clothes in summer, layers in spring and fall, and warm coats in winter.
Don't forget your camera. Photos are always a great memento of your park experience. Binoculars are great to bring along, too, especially for bird watching along Oxon Cove.
If you are visiting the park with children, it is often helpful to read a book or two with them about agriculture, nature, wildlife, or early American History. Reading can get children very excited about their visit and they really can learn a lot, too.
The farm animals are domesticated and are friendly and nonthreatening. However, please do not pet the farm animals unless you are participating in a program with a Ranger. Never walk behind a hooved animal. Also, our animals are on a very strict diet, so please don't feed them. Do not chase or approach too closely to any of the naturally roaming wildlife.
Stay back from moving wagons, tractors, and other farm vehicles. Do not climb any of the machinery or any of the fences.
Parking is available in the parking lot as you enter the park on Bald Eagle Road. Gravel roads are for farm equipment and National Park Service vehicles only.
Picnic areas are available near the parking lot on a "first come, first served" basis. While there are a variety of restaurants within a mile of the park, there is not any food available for purchase within the park.
When hiking, stay on the established trail and watch your footing. Please respect park resources and keep bicycles on paved roads and designated trails.
With the exception of guide dogs, pets are not allowed at Oxon Cove Park.
Camping areas are not available at Oxon Cove Park.
All plants and wildlife are an important part of the park's ecological balance and are protected by federal law. Do not pick any flowers, fruits, vegetables, etc. without permission from park staff.
Last updated: October 31, 2023