Oxon Hill Farm Fall Festival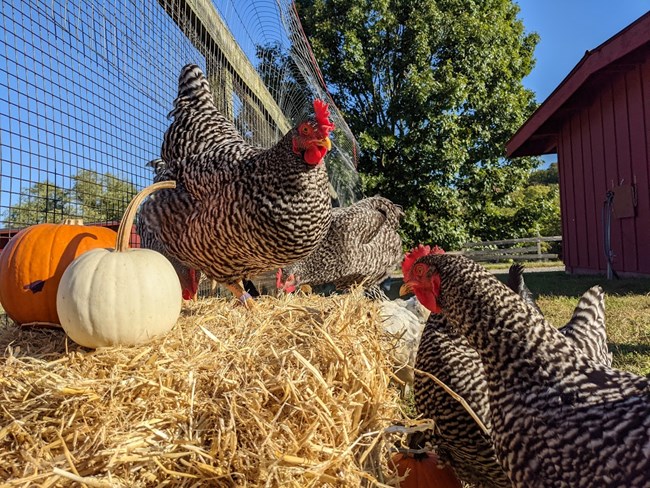 October 21st, 2023
10:00 AM - 5:00 PM
Join us for a day of free fun for the whole family! Watch live performances, learn ways to stay healthy, and participate in hands-on activities and crafts. Enjoy the cool fall weather and the changing colors of the leaves.
For more information, call us at 771-208-1536.
This event is still evolving! Check this website for the most up-to-date details.
10:00-5:00 Community Showcase 
Agriculture and environmental groups from the local area will be present to talk to visitors and provide hands-on activities for kids. This will include the Accokeek Foundation, the Oxon Hill Library, the Ship's Company Chanteymen, Mocha Moms, and the Blacksmiths Guild of the Potomac!
Learn how to make ice cream! Park Rangers will be leading ice-cream making lessons at 10:30, 11:30, 1:30, and 2:30. Stop by the tent with the historic farm equipment to sign up. 
10:00-1:00 Wellness Walk 
Stay fit and active by taking the family along for a wellness walk through our meadow and complete a series of activities. The first 300 people to finish the walk will get a finisher's medal! 
10:00-10:45 The Uncle Devin Show 
The Uncle Devin Show is an interactive, musical experience for children by renowned drummer and percussionist, Devin Walker. The show cultivates the minds of children through percussion instruments and is a dynamic cross between DC's Trouble Funk and Schoolhouse Rock!
11:00 and 2:00 Yoga Class with Adrienne
Slow down and treat your mind and body to a guided yoga class with instructor Adrienne in our serene apple orchard. This class will be about an hour long. Be sure to bring your own yoga mat if you plan to participate! 

Yoga sessions are free but have limited availability. Sign up at the Welcome table when you arrive. 
11:15-12:00 King Bullfrog 
King Bullfrog is a high-energy acoustic act playing folk, rock, and original music for kids and their grownups. Featuring Mr. Jeremiah, Mr. Steve, and the Captain—Washington DC-based dads and music teachers—the band's roots-rock tunes are carefully tailored to get kiddos dancing while delighting grownups—an approach that successfully hooks audiences young and old. With their musical stories, amusing wordplay, and close attention to all of their audiences, King Bullfrog is the hottest sensation in family music in the DC area. Or at least the most amphibian.
1:00-1:45 Sheepdog Demonstration with AJ Husketh-Tutton 
Get a glimpse into the life of a shephard. Watch as AJ Husketh-Tutton and her skilled dogs herd sheep through obstacles. Based on her voice commands and whistles, AJ's intelligent dogs will execute maneuvers and safely move the sheep through gates. 
2:00 and 3:30 Forest Bathing with Sage Raindancer 
Join Sage on a forest bathing walk, also known as Shinrin-yoku. Be guided on this slow paced and gentle walk into the forest where your senses will be primed to observe, absorb, and reconnect with nature. Enjoy the therapeutic properties of absorbing and embracing the essence of the forest that has been proven by science internationally and by ancestors globally.
Forest bathing sessions are free but have limited availability. Sign up at the Welcome table when you arrive. Ages 10+ recommended. The hiking trail is not suitable for strollers or wheelchairs. 
2:30-3:30 Square Dancing with the DC Lambda Squares
The only square dance club in Washington, DC! DC Lambda Squares welcomes singles, couples, of any orientation. They provide an energetic activity that encourages smiles, promotes friendship, and is a ticket to the hip, social world of square dancing. All are welcome to come and dance!
4:00-4:45 The Tribe Band 
The Tribe Band incorporates all types of music from Gospel to Blues, Smooth Jazz, Funk, R&B, Soul, Old School Music, Motown and more. Their upbeat tunes will get everyone in your family on the dance floor. What a great way to end your Fall Festival experience.  
Public Transportation
The following bus-lines will pick up and drop off at the Oxon Hill Park and Ride: 
WMATA
P18, D14, NH1, NH2
PG County
Route 35
Biking to Oxon Hill Farm
Bicycle racks are provided in the parking lot at Oxon Hill Farm. There is a Capital Bikeshare station at the Oxon Hill Park and Ride. Check out the Hiker-Biker trail within the park which connects to the Forest Heights, Southeast DC, and National Harbor neighborhoods. 
Parking is limited at Oxon Hill Farm. Please consider parking at the Oxon Hill Park and Ride and walking over. The walk is about half a mile. If the on-site lot is full when you arrive, you will be directed to the Park and Ride. A free shuttle will be provided to take visitors to and from the Park and Ride. 

Directions to Oxon Hill Park and Ride from Oxon Hill Farm 
Head southeast on Bald Eagle Road towards Oxon Hill Rd 

Turn right on Oxon Hill Rd 

Turn left on Monument Ave 

Turn left into parking lot 
Oxon Hill Park and Ride: 6710 Oxon Hill Rd #200, Oxon Hill, MD 20745
Mobility/Physical 
The parking area has 4 designated handicapped parking spots. More will be reserved for this event. 
The walking paths are mostly gravel which can be difficult to navigate with wheelchairs or other mobility aids. There will be two golf carts present to shuttle visitors with mobility concerns. Request this assistance from any staff or volunteer at the event. 
Mount Welby, the historic farm house, has 5 steps leading up to the entrance. 
Deaf/Hearing Loss
American Sign Language interpreters will be present at the festival. ASL interpretation will be provided for all performances, and interpreters are available upon request to accompany visitors throughout the event. Request this assistance from any staff at the event.
Blind/Low Vision 
Braille brochures are available in the Visitor Center. Mobility assistance golf carts are available upon request. Request this assistance from any staff or volunteer at the event. 
Cognitive/Learning Disabilities
There will be many activities with hands-on learning opportunities. The performances on the stage will be amplified and may have sudden loud noises. If you need a quiet place to escape from the hustle and bustle, head to the Visitor Center or the historic farmhouse. 
Last updated: October 12, 2023