The Woodlot Trail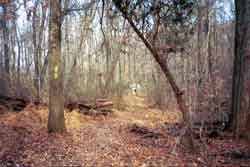 Welcome to the Woodlot Trail. Walking this scenic .3 mile trail will give you the opportunity to enjoy one of the natural areas of Oxon Cove Park. The wooded areas along the river are like seeing a blanket over the land, the top of which receives the full impact of the wind, rain, and sun. Trees such as the maple, beech, black cherry, oak and pine make up this canopy of Woodlot, and numerous other smaller trees, shrubs, vines, grasses and wildflowers make up its understory.
As you walk along this trail you can find evidence of how humans have influenced natural process. For hundreds of years, people have used this land. Since before 1800 the land was cleared and farmed. From early 1900's to mid-1960's, St Elizabeth's Hospital used the land for farming. Natural forces such as erosion and human activities will continue the change the land in the future as well. Look for old pasture fences, markings in trees, and other signs of the past as you walk the trail. The Woodlot also provides habitat that supports a variety of wildlife including foxes, squirrels, beavers, deer, ducks, wild turkey, raptors, and a diversity of songbirds.
Please help preserve this natural area for others to enjoy by staying on the trail and follow the bright yellow painted trail markers found on the trees. Sturdy walking shoes are desirable for walking the Woodlot Trail. The steps and pitch of the slopes make the trail too rough for strollers and wheelchairs.
Last updated: April 10, 2015