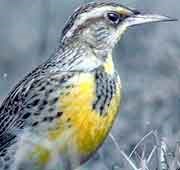 Sturnella magna
According to the Bureau of Land Management's Partners in Flight Bird Management Plan, the Eastern Meadowlark have decreased ten percent a year and are among the most steeply declining birds in the Mid-Atlantic.
Eastern Meadowlarks inhabit field, pasture, and meadows which can all be found in Oxon Cove Park. These habitats are dwindling as more and more farm and fields give way to development, revert to forests, or shift from pastures to row crops.
Local national parks provide the minumum 15 to 20 acres of meadow habitat for these birds to breed.