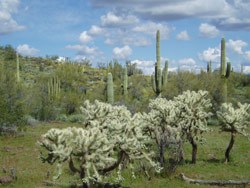 If you close your eyes and think of a desert, what colors come to mind? Brown? Tan? Sand and rock?
Many first-time visitors to the Sonoran Desert are very surprised to find this place is green.
Organ Pipe Cactus National Monument preserves over 330,000 acres of green, living desert that is yours to explore and get to know. Because of its amazing biodiversity, this place is considered a mecca for Sonoran Desert Research and is honored with a designation by UNESCO as an International Biosphere Reserve.
Each of the plants have learned tricks and techniques to survive heat and drought, as well as freezing temperatures and floods. This is a land of extremes when it comes to plant life. This section can introduce you to some of our more common as well as some unique species of the Sonoran Desert.