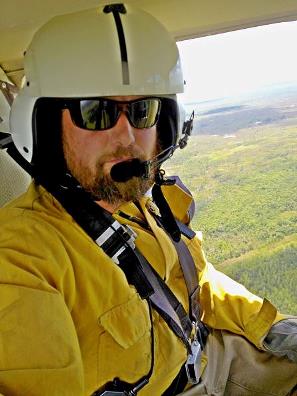 News Release Date: February 8, 2017

Contact: Josh Manley, (215) 327-6407
Alton "Ody" Anderson has been named regional aviation manager for the National Capital, Northeast and Southeast regions. Ody is currently the fire management officer (FMO) at Cumberland Island National Seashore (CUIS), where he oversees the Atlantic Fire Management Zone of the Southeast Region (SER). Anderson will officially begin his new role on February 20, 2017.
Prior to becoming the FMO at CUIS, Anderson was a fuels specialist with the Bureau of Land Management where he planned fuels treatments in Western Colorado. Throughout his career in fire and aviation, Ody served in several other positions that prepared him for his new role. During his time out west in Colorado and California, he held positions on hand crews and wildland fire modules, was an engine captain and served as a helicopter crew member.
Ody maintains several wildland fire and aviation qualifications and brings a wealth of experience and knowledge to the aviation management position. Currently he concentrates on working with the South Atlantic Type-3 Team as Incident Commander and Operations Section Chief while working throughout the region as an Air Attack trainee.
Anderson has administered large fire programs and has experience collaborating with local, state and interagency partners. According to him, he ensures everyone gets "the best bang for their buck in times of declining budgets and staff."
"We are excited for Ody to serve in an integral role in the Capital, Northeast and Southeast regions," commented SER FMO Shawn Nagle. "The predisposed knowledge Ody possesses in park-level operations will be vital for his new role. Having direct knowledge of the needs and complexities the field encounters will provide for great customer service."
Excited to begin his new role, Anderson said, "I am very much looking forward to becoming part of the Capital, Northeast and Southeast regional staff and providing leadership in the aviation arena. I intend to ensure that we have an efficient, effective and safe aviation program that makes us all proud."

Anderson attended the GS-401 Biological Science Degree Program at the University of Las Vegas and attended forestry classes at Columbia College in Columbia, California. Anderson's family will join him in Atlanta. His wife Noel is a Physician's Assistant and his son Jake, 8, is a typical third grader who loves playing with his friends, swimming and Minecraft. Maverick the family husky is looking forward to some cooler temperatures in the winter.