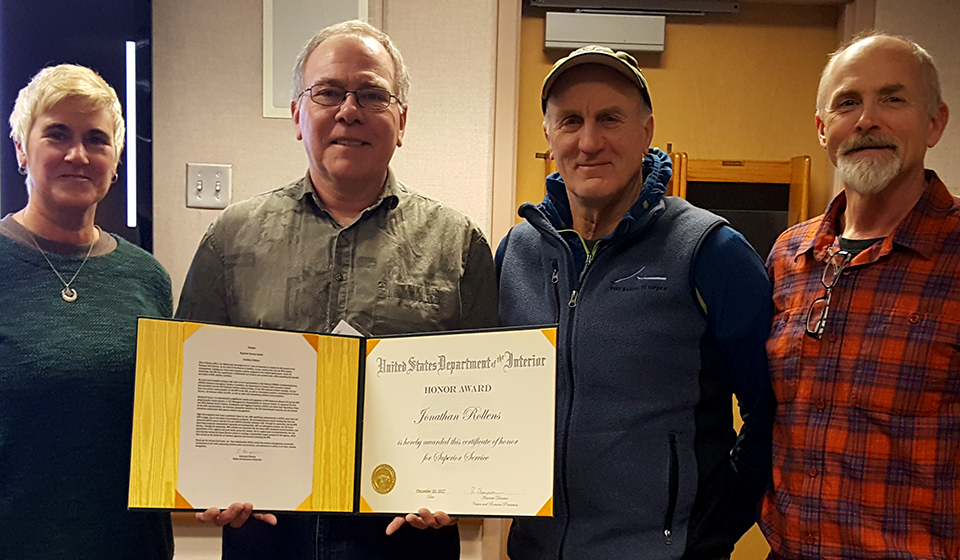 News Release Date: January 3, 2018

Contact: Tina Boehle, 208.387.5875
National Park Service aviation branch chief, Jon Rollens, retired at the end of 2017, after nearly seven years as the national aviation program leader and thirty-seven years of government service. He had served as the face for NPS aviation management, leading one of the most complex aviation programs in the federal government.
Prior to coming to the NPS in January 2011, Jon worked for the U.S. Forest Service as the assistant director of aviation (RAO) for the Northwest and Alaska Regions, based in Portland, Oregon. He began his career in 1980 with the BLM in Wyoming, where he worked for eight years before joining the Forest Service.
Over the course of his career, Jon has received multiple awards and recognition, including an outstanding performance award in February 2010 while on a 120-day detail as the Forest Service's assistant director of aviation operations, standards and quality assurance in Washington D.C. As part of the detail, he led an effort to standardize the agency's helicopter rappel program, resulting in a reactivation of the rappel program in the U.S. Forest Service's Pacific Northwest region. In June 2003, he received an outstanding performance award as an aviation management specialist. He was awarded a Department of the Interior Superior Service Award upon his retirement.
Under Jon's leadership, the NPS Aviation Program experienced a historically low incident and accident rate, while expanding the breadth and depth of NPS aviation activities, including the Service's use of unmanned aircraft systems (UAS). He implemented a significant rewrite and expansion of NPS Reference Manual 60 and the Aviation Management Strategic Plan. He approved the first ever plans for NPS National Aerial Capture, Eradication and Tagging of Animals (ACETA) and Short-Haul Operations. As the NPS representative, Jon directed substantial updates to the Department of the Interior departmental manuals and operational procedure memoranda that govern aviation management.
"Jon's contributions to National Park Service Aviation Management cannot be understated," said NPS Fire and Aviation Division Chief, Bill Kaage. "He and his team have made outstanding contributions that touch the entire Service as well as the Department of the Interior, from visitor and resource protection, to natural resources, to employee safety. We appreciate his leadership and wish him the best in the next chapter to come."
Jon Rollens stated; "after spending the majority of my career with the U.S. Forest Service, I've thoroughly enjoyed ending my career with the National Park Service. The diversity and complexity of aviation missions in NPS is unparalleled, and the devotion our employees have to executing those missions is profound. I will truly miss the high caliber of people I've had the good fortune to work with in NPS, but look forward to pursuing other interests."
Meg Gallagher, an aviation management specialist for the Branch of Aviation, is the acting branch chief on a 120-day detail.