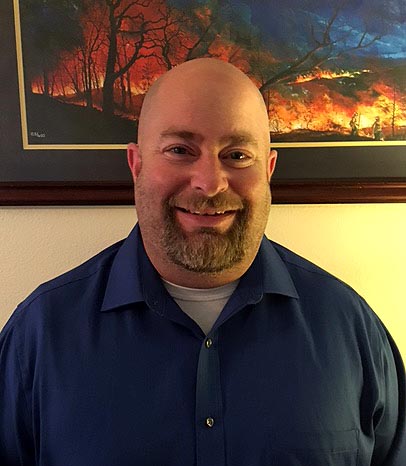 News Release Date: August 2, 2017

Contact: J. Michael Johnson, 402.661.1760
Patrick Pearson has been selected to fill the vacant chief of Fire and Aviation position formerly held by Jim McMahill.  Pearson is a US Fish and Wildlife employee currently serving as the zone fire management officer for nine national wildlife refuges and one fish hatchery in east central and south Florida.  In 2016, he completed an interagency detail assignment as the fire management officer at Everglades National Park. Throughout his fire management career, Patrick has worked in many parts of the country and has gained valuable experience with both the Bureau of Land Management and the USDA Forest Service. 
His experience ranges from interagency management of wildland fires and all risk incidents, prescribed fire, aviation operations, engines to "hotshot" hand crews.  Pearson also serves as operations section chief for one of the Southern Area Type 1 Incident Management Teams. He brings a broad range of expertise and skills to deal with the fire management and aviation issues and challenges affecting the Midwest Region and the National Park Service as an agency. "We congratulate Patrick, and look forward to the professionalism and leadership he will provide in keeping the Midwest Region on the cutting edge of NPS Fire Management Policy and operational effectiveness," said Midwest Region Associate Regional Director, Operations and Education Jim Loach.
Pearson said, "It's an honor and a privilege to be selected for this position. I am excited to work with the parks in the Midwest to build upon their successful use of prescribed fire to reduce the potential for large wildfires and to improve the native habitat."
Pearson was instrumental in
Merritt Island National Wildlife Refuge
recently winning the National Pulaski Award for cooperation and coordination with County, State, US Air Force and NASA partners.  Pearson said, "Building relationships with partners is extremely important to me. I would love to see this national award housed at a park unit in the Midwest Region very soon. With all of the great coordination and cooperation that is already taking place throughout the Region, I can see this happening very soon."
In his new position, Pearson will be responsible for the oversight and coordination of Wildland Fire and Aviation Management of 61 national park units, located in 13 midwestern states.  The region works closely with local, state and interagency partners from Arkansas to the Great Lakes, and Ohio to North Dakota to conduct prescribed fires, reduce hazardous fuels, and suppress wildfires.
Pearson will begin his new assignment August 20, 2017