News Release
Kelly Woods Named New Wildland Fire Lessons Learned Center Manager
Date: May 6, 2020
Contact: Tina Boehle, 208.387.5875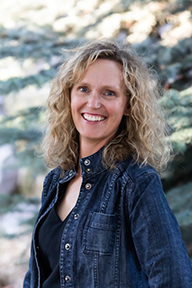 Kelly Woods, a Bureau of Land Management supervisory training specialist responsible for leading the Great Basin Training Center in Boise, Idaho, has been named as the Wildland Fire Lessons Learned Center (LLC) manager.
Kelly began her fire career on the Mount Hood National Forest in 1992 where she spent three seasons as a forestry aid working on and leading a fuels/brush disposal crew. She then worked on Prineville and Asheville Interagency Hotshot Crews. Kelly worked on the Payette National Forest in multiple positions including assistant engine captain, engine captain, and heli-rappeller before moving to the Boise National Forest as a fire prevention and Wildland Urban Interface specialist. She gained experience in outreach and communication while working for the U.S. Fish and Wildlife Service and splitting her time between the agency's Pacific Region and the National Wildfire Coordinating Group's Program Management Unit. Kelly moved into training development before accepting her current position as the Great Basin Training Center manager. Kelly has worked on incident management teams as a public information officer and training specialist.
"Kelly's background, blending fire management operations, communication, training development, and training delivery will help her lead the LLC's efforts to improve safe work performance and organizational learning for all wildland firefighters," said National Park Service Wildland Fire Operations program leader, Chad Fisher.
The LLC manager position has been relocated to the National Interagency Fire Center in Boise, Idaho and Kelly will assume her new duties on May 24, 2020. Kelly is a Boise resident and enjoys spending time with her son Grant and their dogs, Bella and Cooper.
The LLC was established in 2002. Its mission is "…to promote learning in the wildland fire service by providing useful and relevant products and services that help to reveal the complexity and risk in the wildland fire environment." The interagency staff is comprised of the Center manager position, formerly held by Brit Rosso, a deputy Center manager, an analyst, a field operations specialist, and a writer/editor. "Kelly has the opportunity to work with an outstanding team at the LLC and I look forward to their continued contributions to the wildland fire community," said Fisher.
Last updated: May 6, 2020