Date: January 10, 2017
Contact: Tina Boehle, 208.387.5875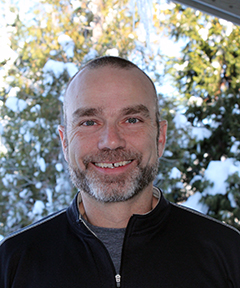 BOISE- Chad Fisher has been selected as the National Park Service's Wildland Fire Operations Program Leader for the Branch of Wildland Fire. In this position he will lead the team responsible for operations, safety, facilities, equipment, training, and wildland fire qualifications.
Fisher began his wildland fire career in 1990 at Pocosin Lakes National Wildlife Refuge in North Carolina after graduating from Haywood Community College with an Associate's Degree in Fish and Wildlife Management. Chad worked seven seasons at the refuge as a firefighter and helicopter manager. In 1992 he began to spend his summers in the west working on the Payette National Forest. Chad left Pocosin Lakes for a position on the NPS Alpine Interagency Hotshot Crew and to return to school at the University of Montana where he earned a Bachelor of Science in Resource Conservation in 1997. While in college, he worked as a smokejumper and helitack crew leader. Upon graduation he received his first permanent appointment on the Lewis and Clark National Forest and then spent four years as the assistant leader and leader of the Great Smoky Mountains Fire Use Module. In 2001, Chad moved to the National Interagency Fire Center as a wildland fire training specialist with the NPS. In the mid 2000's he spent a little more than two years as the US Fish and Wildlife Service fire management national training specialist. Chad has been the wildland fire safety program manager with the National Park Service since 2008 and has been the acting operations program leader for much of the last three years. In 2013, he was a recipient of the Paul Gleason Lead by Example Award for his work with the Dutch Creek mitigations.
"I look forward to officially leading the Wildland Fire Operations Program" Fisher said. "I feel it is our responsibility to set others up for success. The Operations Program is comprised of accomplished employees. I'm confident our group will continue to be responsive to the field while also being strategic in our work and looking for ways to improve. It is important we do the right work so all NPS employees go home physically and mentally well at the end of each shift."
Chad is a member of the National Park Service Safety Leadership Council and the Leadership Matters Team. He is also a member of the National Wildfire Coordinating Group Risk Management Committee. His wife Sarah works for the United States Forest Service and they have two young sons. He enjoys spending time with his family, running, CrossFit, and studying leadership.