News Release
Casey Teske named wildland fire science and ecology program lead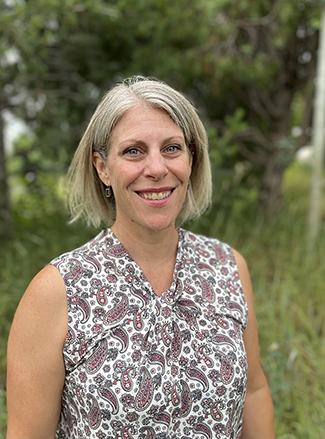 News Release Date: August 11, 2023

Contact: Candice Stevenson, (208) 519-0611
Casey Teske has been selected as the wildland fire science and ecology program lead for the NPS Wildland Fire Program. Casey most recently worked as the fire management analyst for the US Fish and Wildlife Service (FWS) Branch of Fire Management at the National Interagency Fire Center (NIFC) in Boise, Idaho. She has an extensive background working with many agencies since 1993 including the Bureau of Land Management, US Forest Service, National Park Service, and FWS. Her wildland fire operational background includes work in dispatch, engine crew, helitack crew, hotshots, and Wildland Fire Modules. She has degrees in Forestry from the University of Idaho (MS) and the University of Montana (PhD).
Prior to joining FWS, she worked at Tall Timbers Research Station in Florida as a geospatial fire ecologist where she was involved in next generation fire and fuels modeling, spatial analyses and regional fire mapping, and tech transfer. She also served as the fire ecologist for Grand Canyon National Park and as a fire scientist at The University of Montana's FireCenter. 
She enjoys working with one foot in fire management and one foot in fire research/analysis, so she is uniquely positioned to bridge the gap between research and management. She is heavily involved in research and application development for wildfires and planned prescribed fires using GIS and Remote Sensing tools. "Casey brings a great wealth of broad experience into this position," added Jason Fallon, wildland fire branch chief. "An intentional focus of applying science into problem solving and integrating with operational management bring strong components to support the program. Additionally, Casey's collaborative style and results driven focus will add more excellent leadership to the future of NPS Wildland Fire."
During the summer months, she often serves as a long term analyst (LTAN) for Incident Management Teams on wildfire assignments. She also enjoys assisting with burn plans and implementing prescribed burns, coordinating research and operational activities on fires, and putting her technical skills to work doing fire research with new technologies. She remains very involved in helping connect students/recent graduates with internships and employment opportunities specifically related to wildland fire and enjoys working with international fire practitioners and mentoring women pursuing fire careers.
Last updated: August 13, 2023