News Release
Mark Dowdle selected as Superintendent for Gates of the Arctic National Park and Preserve and Yukon-Charley Rivers National Preserve
Date: March 16, 2022
Contact: Peter Christian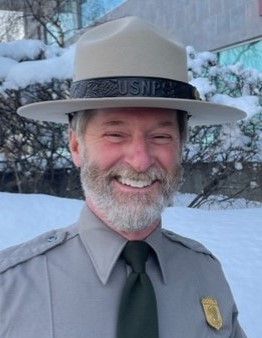 ANCHORAGE, AK
—Mark Dowdle, a 22-year veteran of the National Park Service has been selected as the new superintendent of Gates of the Arctic National Park and Preserve and Yukon-Charley Rivers National Preserve.
Prior to this appointment, Dowdle served in several leadership roles including most recently as the deputy superintendent of the Outer Banks Group national park sites in eastern North Carolina. Where, since 2014, Dowdle worked closely with a large variety of communities, partner groups, and surrounding federal, state, and local agencies.
"We are pleased that Mark is joining us in the Alaska Region," said Regional Director Sarah Creachbaum. "Mark brings critical leadership skills to these two important Arctic and Interior Alaska park areas."
"After college I spent a summer in Alaska and have always wanted to come back! I am honored to have the opportunity to work with a dedicated team of NPS employees and partners and to learn from the Alaska Native people who call these amazing places home," Dowdle said.
Dowdle began his NPS career in Yellowstone National Park working in historical preservation maintenance and interpretative positions before joining the Old Faithful backcountry office and becoming a commissioned park ranger. Subsequent ranger positions include Chiricahua National Monument, Big Cypress National Preserve, Glen Canyon National Recreation Area, Yosemite National Park, and as the chief park ranger at the National Parks of Boston. Dowdle also served as the acting superintendent at Cumberland Gap National Historical Park, acting deputy superintendent for Everglades and Dry Tortugas national parks, and recently as the acting superintendent of the Western Arctic National Parklands in Kotzebue, Alaska. Dowdle begins his assignment in Fairbanks, AK on April 10
th
.
A native of North Carolina, Dowdle is a graduate of Brevard College, Clemson University, and the FBI National Academy.
Last updated: March 16, 2022