News Release
Leadership Changes at Denali National Park and Preserve
Date: July 30, 2020
Contact: Peter Christian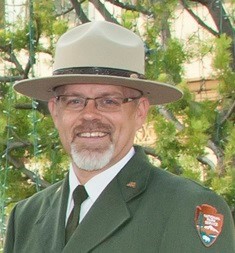 Tom Medema, currently acting Associate Director for Interpretation, Education and Volunteers in Washington, D.C., has been named acting Superintendent of Denali National Park and Preserve, effective August 16, 2020. He will replace Deputy Superintendent, Denice Swanke, who has served at the park since 2016, and who has also been acting Superintendent since November 2019. 
Medema brings to Denali a wealth of professional knowledge and experience. He has worked in the fields of interpretation and environmental education for more than 30 years, beginning as a residential environmental education instructor while still in college, before becoming a volunteer intern at Rocky Mountain National Park in 1989. Prior to his current position, Tom led the Interpretation and Education Division at Yosemite National Park. While there, he managed a complex program that also included the park's Curatorial and Museum Management Program, the Public Involvement and Outreach Program, Public Affairs, and Education. Medema's National Park Service career also includes working at Cuyahoga Valley National Park, Mount Rainier National Park and Fort Vancouver National Historic Site. He has been serving as Acting Associate Director in Washington, D.C. since March of 2017.
Medema holds a Master of Science Degree in Parks and Recreation Resources from Michigan State University and a Bachelor of Arts Degree in Recreation-Environmental Education from Calvin College in Grand Rapids, Michigan. Tom was born and raised in Muskegon, Michigan. He and Swanke worked in Mongolia during establishment of Otgontenger Special Protected Area as a Sister Park to Denali.
Swanke recently accepted a position as the Superintendent of Isle Royale National Park in Michigan. Prior to Denali, Swanke was Superintendent of Little Bighorn Battlefield National Monument from 2012 through 2016. She previously served in acting Superintendent roles in Bighorn Canyon National Recreation Area and Horace Albright Training Center. Swanke also worked as Legislative Affairs Specialist for the National Park Service Washington Office, Environmental Protection Specialist for Grand Canyon National Park and Outdoor Recreation Planner for Yellowstone National Park.  
"Denice's leadership skills will be missed at Denali, and we wish her well in her new position at Isle Royale," said Don Striker, acting Regional Director for the National Park Service in Alaska. "We heartily welcome Tom Medema to the Alaska Region and look forward to working with him as Denali National Park and Preserves tackles complex issues in the near future," Striker said.  
Last updated: July 30, 2020