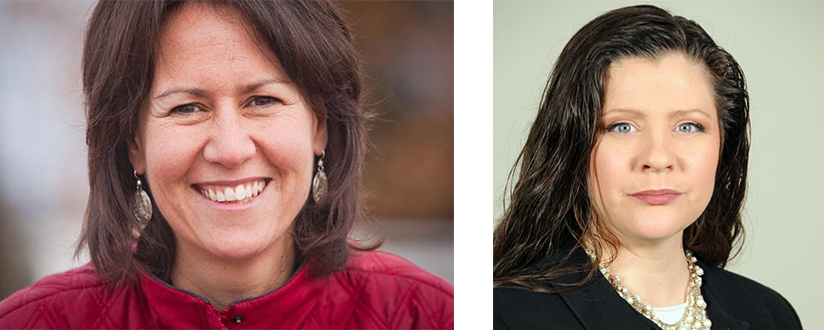 News Release Date: June 16, 2017

Contact: John Quinley, 907-644-3512
Two senior managers have been named to positions in the Alaska Region of the National Park Service.
Susanne Fleek-Green will be the new superintendent of Lake Clark National Park and Preserve, a four million acre unit southwest of Anchorage. She began her job earlier this week.
Christina Caswell will be the new associate regional director for administration, an Anchorage-based position that leads contracting, human resources, budget, concessions and information technology programs. She begins her job in late July.
Fleek-Green has served as Anchorage Mayor Ethan Berkowitz's chief of staff and was previously state director for U.S. Senator Mark Begich. In that role she oversaw Senator Begich's six offices around the state.
"Caswell's extensive knowledge of the business services required in multiple and differing federal agencies, and her demonstrated adaptability and strong management, position her for the challenges that face the NPS Alaska Region," said Acting NPS-Alaska Regional Director Joel Hard.
"We are also happy to bring in more home-grown Alaska leadership to the NPS management team. Susanne Fleek-Green has the right mix of experience and skills to work with the communities that neighbor Lake Clark and to lead a talented staff," Hard said.
Caswell, a former Anchorage resident, comes to the NPS from the Occupational Safety and Health Administration. In her current role, she serves as the assistant regional administrator/administrative officer for OSHA Region 10 in Seattle, overseeing multi-disciplinary and complex administrative programs. She is the principle advisor to the OSHA regional administrator on all matters of administrative importance, including budget, information technology, human resources, acquisition and contracting, training and recruitment.
Prior to working at OSHA, she served as the chief of strategy and mission support with the Army Corp of Engineers. Caswell managed multiple disparate business programs and centralized administrative and management services to support a regional office of over 100 employees and a district of more than 1,200 staff. She holds a bachelor's degree in business administration and a master's degree in workplace learning and organizational development.
Fleek-Green's public service background also includes working for the Municipality of Anchorage in the Office of Economic and Community Development, the United States Senate in Washington, D.C. and as a Presidential Management Fellow with the U.S. Department of the Interior.
Fleek-Green was born and raised in Alaska, living in Yakutat, King Salmon and Anchorage. She is a Sealaska shareholder and tribal member of Central Council of Tlingit Haida Indian Tribes of Alaska. Susanne has a B.A. and Masters of Public Policy from the University of California, Berkeley.