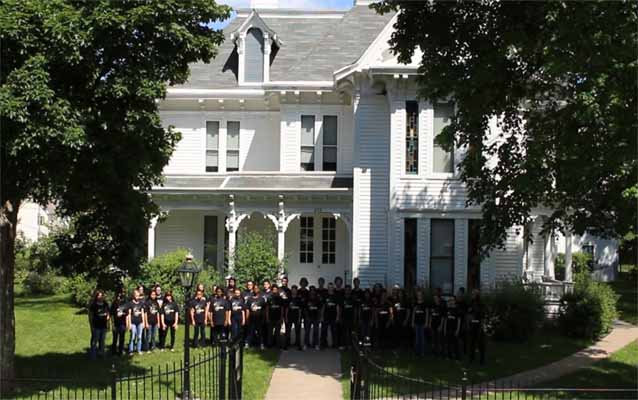 News Release Date: March 23, 2017
In celebration of the National Park Service Centennial, youth sung their appreciation of nature in national parks across the country. In 2016, the National Park Service commemorated 100 years of service and kicked off a second century of stewardship of America's national parks. People reconnected with their parks and discovered new opportunities to explore these unique places.
"Sing Across America" brought young people together to express the human connection to nature through song, and to celebrate national parks and special places in their communities. The project was coordinated by artist Louise Phillips, who wrote the lyrics to the "Children's Earth Anthem." Charles Eversole, Artistic Director for the Singing Angels, composed the music. 
Youth choirs and organizations performed the "Children's Earth Anthem" in diverse national parks throughout the centennial year. Many performances were compiled into a commemorative video. More "Sing Across America" performances are scheduled for 2017 and will continue to be shared online. Beyond the centennial, these performances, as well as the connections made with young people across the country, continue to resonate. 
Click to see the video compilation of perfomances
CHILDREN'S EARTH ANTHEM
Charles Eversole (based on a poem by Louise Phillips)
Earth Children, voices strong by day and night;
Earth Children, our universal light.  
Voices rising on the breeze
Or skipping off the water,
Dancing o'er the prairies…
Children running through the trees
And resting on the sands
Of oceans and desert lands.  
Earth Children, voices strong by day and night;
Earth Children, at dawn our songs take flight!  
Voices rushing down the rivers,
Through the canyons,
From the mountaintops.
We join our hearts and hands
To sing of living lands;
Lands of purity and splendor
And history and grandeur
And joy… and love!!  
We are all Earth Children, voices strong by day and night;
And as all Earth's Children
We proclaim with glorious might
All the beauty in our sight,
Bathed in universal love and light!!