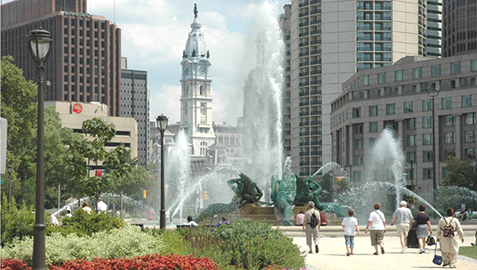 News Release Date: March 5, 2016

Contact: Shaun Eyring, (267) 767-3246
Contact: Nord Wennerstrom, (202) 255-7076
PHILADELPHIA, PA –The National Park Service (NPS) and The Cultural Landscape Foundation (TCLF) today launched
a new online What's Out There Cultural Landscapes Guide to Philadelphia
, the first of four new online What's Out There Cultural Landscapes Guides begin created in honor of the NPS' 100th anniversary. TCLF and the NPS Northeast Regional Office have partnered to identify, research, and document a varied collection of landscapes in four of ten northeastern cities: Philadelphia, PA, Boston, MA, New York, NY, and Richmond, VA. 
The Guides
,which will each feature at least 50 sites, are customized to provide an accessible digital inventory of selected parks and landscapes, which are searchable by geographic location, type, style, designer, and theme. Through TCLF's digital and mobile platforms, the Guides will connect new audiences to the nation's landscape heritage, a goal shared by TCLF and the NPS. Project sponsors include Bartlett Tree Experts and Victor Stanley, and Partner in Education, the Pennsylvania-Delaware Chapter of the American Society of Landscape Architects. 
The Guides are an outgrowth of TCLF's
What's Out There database
of North America's designed landscape legacy.The profusely illustrated and carefully vetted What's Out There database features more than 1,900 sites in the U.S. and Canada, 900 designer profiles and 10,000 images.The database is fully optimized for iPhones and similar handheld devices and includes What's Nearby, a GPS-enabled function that locates all sites in the database with a 25-mile radius of the user's location.
The Cultural Landscapes Guides project will significantly expand the interactive, graphically rich, user-friendly database highlighting the diversity, interconnectedness, and significance of national parks and historic sites in urban areas.  Advised by NPS and TCLF staff, interns are conducting field work and research in order to develop original documentary essays about the history, design, and current condition of selected sites.  The essays, accompanied by contemporary photographs that illustrate the design character of the landscapes, are being added to the What's Out There database. The Guides will link to the database, and will also include overarching thematic narratives about the history of the NPS in each of the selected cities. Historic photographs and maps, discussions of the various themes highlighted by the research, and a GPS-enabled mobile interface will make this material relevant and accessible to a variety of users. Additionally, as a digital medium, the Guides will be flexible in content and can be expanded as new landscapes are discovered and added to the database.The New York Guide will be unveiled in Fall 2016 and the Boston and Richmond Guides will follow in 2017.
The NPS was founded with the passage of the
Organic Act of 1916
.  For NPS' centennial in 2016, several new initiatives are planned to expand the agency's focus, and provide opportunities for new and broader partnerships.  One such initiative, the
Urban Agenda
, seeks to engage a diverse, 21st-century American public, and is guided by three principles: Be relevant to all Americans;bring the NPS parks, programs, and partnerships into alignment;and collaborate internally and externally to serve communities. Recognizing that one-third of all NPS sites are located in metropolitan areas, the initiative has placed Urban Fellows in ten cities across the country, working to increase the visibility of national parks and to foster local collaborations. 
The project will touch on a diverse range of themes including nature conservation, historic preservation, civil rights, transportation, industry, municipal amenities, and urban planning relating to neighborhood parks, public housing, and redevelopment. The project will also reveal trends and make connections among designers, types, styles, and initiatives, extending from the origin of the NPS to the present day.Each of the landscapes in the Guide is either a national park unit or connects to the NPS through one of its partnership programs, including National Historic Landmarks, National Natural Landmarks, National Heritage Areas, Land and Water Conservation Fund Sites, National Parks, and National Register of Historic Places landscapes. This collaboration between the NPS and TCLF will help increase the awareness of national parks and affiliated sites in metropolitan areas.
ABOUT THE NATIONAL PARK SERVICE
More than 20,000 National Park Service employees care for more than 400 of American national parks and work with communities across the nation to help preserve local history and create close-to-home recreational opportunities. Visit us at www.nps.gov, on
Facebook
,
Twitter
, and
YouTube
.
ABOUT THE CULTURAL LANDSCAPE FOUNDATION
The Cultural Landscape Foundation
 (TCLF), founded in 1998, is a non-profit Washington, D.C.-based foundation that provides people with the ability to see, understand and value landscape architecture, its practitioners, and our shared landscape legacy in the way many people have learned to do with buildings and their designers. Through its website, lectures, outreach and publishing, TCLF broadens the support and understanding for cultural landscapes nationwide. TCLF makes a special effort to heighten the awareness of those who impact cultural landscapes, assist groups and organizations working to increase the appreciation and recognition of cultural landscapes, and develop educational tools for young people to better connect them to their cultural landscape environs.