Geophysical Survey and Investigations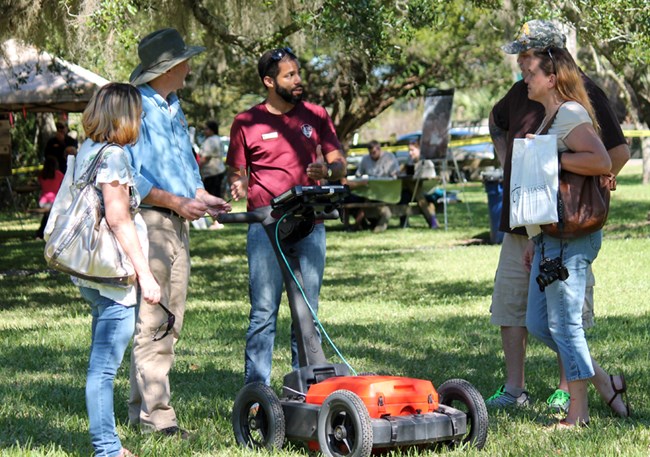 The collection of remote sensing data and its application to archeology through interpretation of survey results is an invaluable tool for providing archeological site evaluations.

The Southeast Archeological Center (SEAC) has conducted geophysical surveys at a number of parks in the Southeast including Castillo de San Marcos, Horseshoe Bend National Military Park, Moores Creek National Battlefield, Dry Tortugas National Park, Natchez Trace Parkway, Blue Ridge Parkway, Vicksburg National Military Park, and Fort Pulaski National Monument.

Each park provides its own unique challenges regarding terrain, soil types, and the type of features trying to be located; these challenges are met with an array of instruments at SEAC.

Each instrument uses a different method for subsurface detection and is capable of detecting subsurface variations that the others cannot. The technology used by SEAC during geophysical surveys include:
GSSI 400mhz ground penetrating radar

GSSI 270mhz ground penetrating radar

FM256 fluxgate gradiometer

EM-38 ground conductivity meter

RM 15-D resistivity meter

The best possible geophysical survey is one that includes all instruments, so that a comparison of the data yields the greatest possible results. Be sure to check out the articles below for more information about SEAC's geophysical survey projects.
Last updated: February 12, 2020