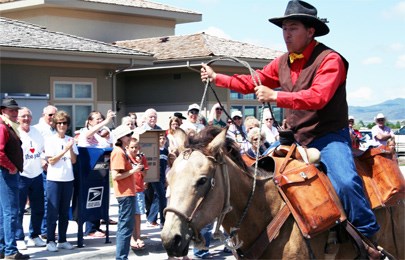 Date: June 10, 2015
Contact: Email Us
SALT LAKE CITY, Utah: National Trails Intermountain Region (NTIR) has created a Facebook page (https://www.facebook.com/PonyExpressNPS) and Instagram profile (https://instagram.com/PonyExpressNPS) for the Pony Express National Historic Trail. Follow along as NTIR shares photos and links commemorating this innovative overland relay mail service. Share your impressions of the trail with us and engage with other Pony Express fans!
The Pony Express greatly improved America's communication by reducing the amount of time it took to deliver mail between Missouri and California from months to just 10 days. The Pony Express, while only lasting from April 1860 to November 1861, was critical for communicating news of the Civil War with Americans out west, and helping to tie a young nation together.
The National Pony Express Association begins their 26th annual re-ride of the Pony Express National Historic Trail on June 15, 2015, celebrating the 155th anniversary of the Pony Express. Riders will follow the national historic trail carrying mail in a "mochila" (specialized saddle bag) like the original Pony Express riders. Each rider passes the mail in the mochila to a new rider and horse as a mail relay system. The re-ride starts from the Patee House Museum in St. Joseph, Missouri at 10 a.m. on June 15th and will arrive in Sacramento, California 10 days later.
NTIR will use social media to share photos of the riders crossing some of the most wild and scenic places in the United States. The re-ride schedule can be viewed here: http://www.xphomestation.com/2015-ReRide-Schedule.html. Follow the mail as the riders carry it westward: a brand new interactive map has been created that will use a satellite tracking device to track the rider carrying the mochila. View the map here: http://www.ponyexpresstracker.com/#map.
For more information on the Pony Express National Historic Trail see: https://www.nps.gov/poex/.