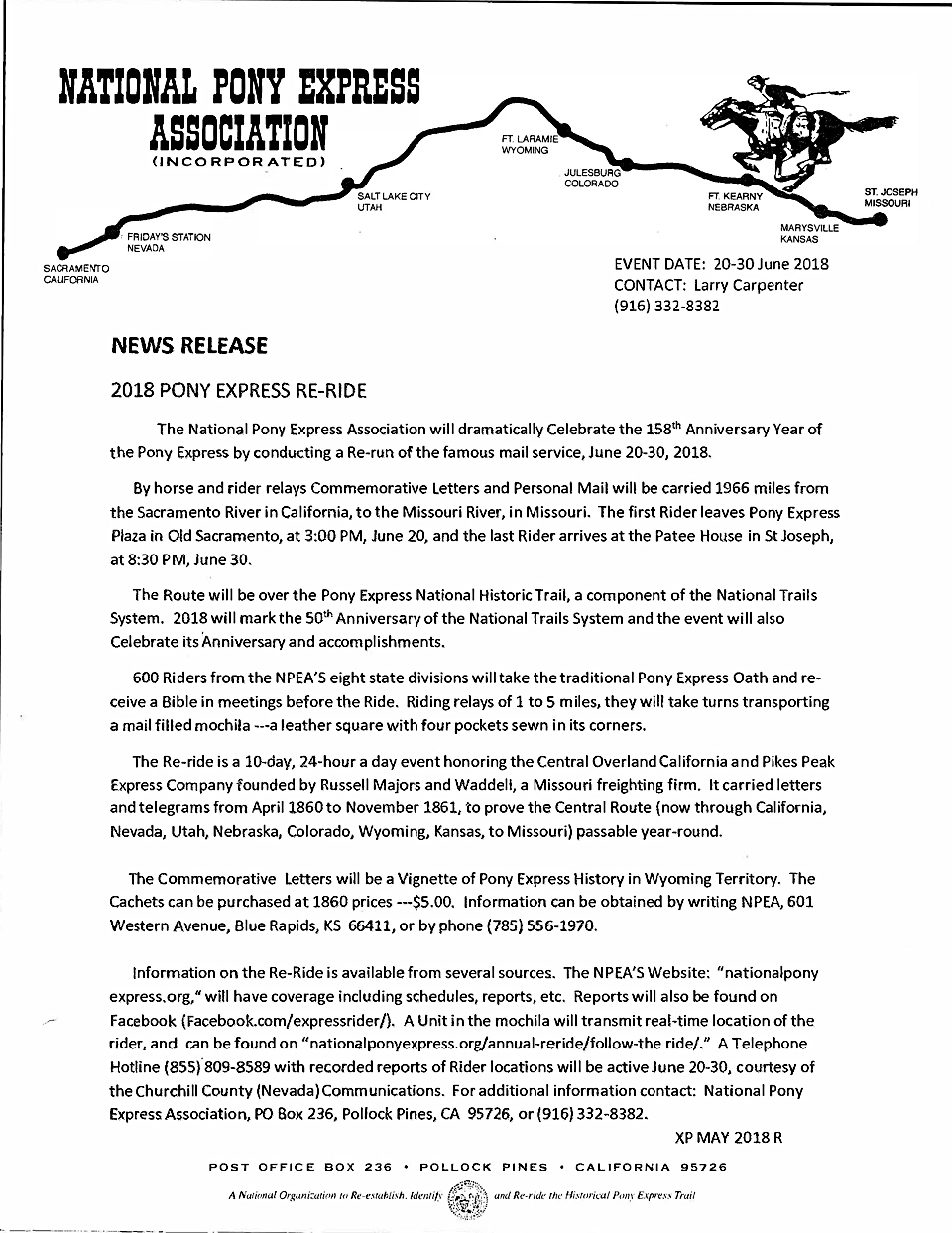 News Release Date: June 8, 2018

Contact: Larry Carpenter, (916) 332-8382
**
Text from the above image is as follows:
The National Pony Express Association will dramatically Celebrate the 158th Anniversary Year of the Pony Express by conducting a Re-run of the famous mail service, June 20-30, 2018.
By horse and rider relays Commemorative Letters and Personal Mail will be carried 1966 miles from the Sacramento River in California, to the Missouri River, in Missouri. The first Rider leaves Pony Express Plaza in Old Sacramento, at 3:00 PM, June 20, and the last Rider arrives at the Patee House in St Joseph, at 8:30 PM, June 30.
The Route will be over the Pony Express National Historic Trail, a component of the National Trails System. 2018 will mark the 50th Anniversary of the National Trails System and the event will also celebrate its Anniversary and accomplishments.
600 Riders from the NPEA'S eight state divisions will take the traditional Pony Express Oath and receive a Bible in meetings before the Ride. Riding relays of 1 to 5 miles, they will take turns transporting a mail filled mochila --a leather square with four pockets sewn in its corners.
The Re-ride is a 10-day, 24-hour a day event honoring the Central Overland California and Pikes Peak Express Company founded by Russell Majors and Waddell, a Missouri freighting firm. It carried letters and telegrams from April 1860 to November 1861, to prove the Central Route (now through California, Nevada, Utah, Nebraska, Colorado, Wyoming, Kansas, to Missouri) passable year-round.
The Commemorative letters will be a Vignette of Pony Express History in Wyoming Territory. The Cachets can be purchased at 1860 prices --$5.00. Information can be obtained by writing NPEA, 601 Western Avenue, Blue Rapids, KS 66411, or by phone (785) 556-1970.
Information on the Re-Ride is available from several sources. The NPEA'S Website: ''nationalponyexpress.org," will have coverage including schedules, reports, etc. Reports will also be found on Facebook (Facebook.com/expressrider/). A Unit in the mochila will transmit real-time location of the rider, and can be found on "nationalponyexpress.org/annual-reride/follow-the ride/." A Telephone Hotline (855) 809-8589 with recorded reports of Rider locations will be active June 20-30, courtesy of the Churchill County (Nevada) Communications. For additional information contact: National Pony Express Association, PO Box 236, Pollock Pines, CA 95726, or (916) 332-8382.