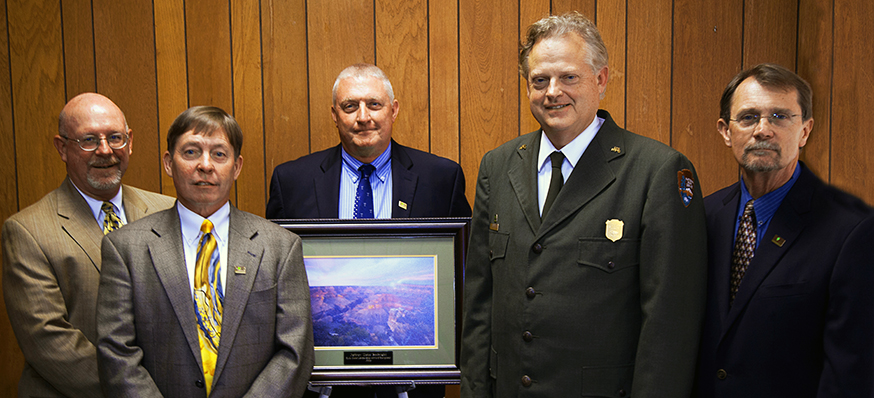 News Release Date: June 17, 2016

Contact: Tina Boehle, 208.387.5875
Advocate, promoter, collaborator, cheerleader, mentor, all words that describe National Capital Region Fire Management Officer, Jeffrey "Zeke" Seabright, who was presented with the 2016 Rick Gale Leadership Award on June 16.
The Rick Gale Leadership Award recognizes an individual associated with the wildland, structural fire or aviation programs who encourages and assists others in the accomplishment of personal and professional goals. The late Richard (Rick) T. Gale retired as the Deputy Chief Ranger for Fire, Aviation, and Emergency Services. Many former and current employees cite him as an inspirational leader and an important mentor in their own careers.
Seabright was nominated by Will Reynolds, Regional Chief Ranger for the National Capital Region. In his nomination, Reynolds cited Seabright's "Go To, Get it Done" attitude and stated, "rarely a month goes by when I don't receive some extremely positive unsolicited compliments about Zeke's effort on behalf of the National Park Service."
In addition to his position as regional fire management officer, a position he's held since 2007, Seabright is on the Southern Area Type 2 Incident Management Team and is qualified as a Type 2 Operations Section Chief, Operations Branch Director, Type 3 Incident Commander, and Division Section Chief. On all-hazard incidents he frequently mentors trainees. He also serves on multiple NPS and interagency committees, teams, and the NPS Fire Management Leadership Board.
Seabright received his Associate of Arts degree in Forest Technology from Allegany College in Maryland and continued on to receive his Bachelor of Science degree in Fire Science from the University of Maryland.
Congratulations to Zeke for the well-deserved recognition!