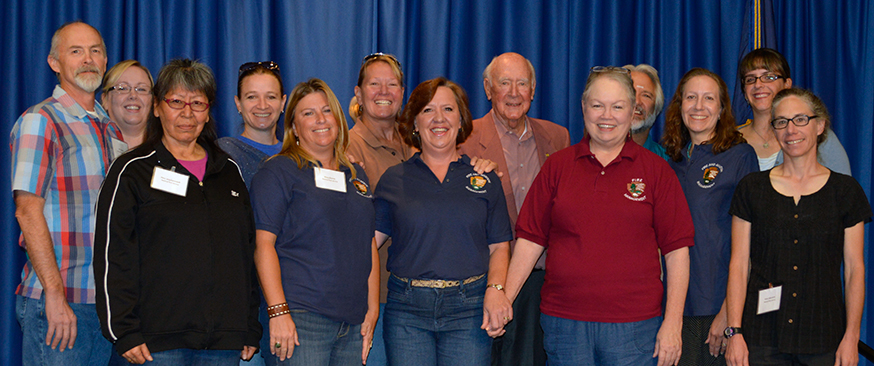 News Release Date: September 18, 2015

Contact: Tina Boehle, (208)387-5875
"Have a mentor, be a mentor." This statement is a quote from Sharon Allen, former Executive Chairman of Deloitte LLP. Over the course of the three-day 2015 Andrus Center Conference on Women and Leadership, speakers reiterated this message many times.
This was the third annual Conference on Women and Leadership. It took place at Boise State University in Boise, Idaho during the first full week in September. The 2015 conference focused on education, motivation, and inspiration. Approximately 700 people attended including a group from the National Park Service (NPS) Division of Fire and Aviation (DFAM) in Boise, Idaho and three NPS-sponsored scholarship recipients, Mary Jane Derendoff and Jessica Sherwood from the Alaska Region, and Diane Abendroth from Grand Teton National Park in Wyoming. 
The conference opened with remarks from Cecil Andrus, four-term Idaho Governor and former U.S. Secretary of the Interior; Rear Admiral (ret) Ronne Froman, "Navy Mayor of San Diego;" and the facilitator, Tracy Andrus—President of the Andrus Center. The speakers are too numerous to list, but some of the highlights included Michele Andrasik, PhD—Fred Hutchinson Cancer Research Center, Lt. Colonel Merryl Tengesdal—First Female African American U-2 Pilot, Mary Wagner—Associate Chief U.S. Forest Service, and Cherie Buckner-Webb—Idaho Senator, District 19. The speakers shared stories of their personal journeys and all of the speakers emphasized that you cannot be successful on your own, as well as the importance of both having a mentor and being a mentor. Mary Wagner stated, "The best players are still coached. The best leaders are still coached."
The attendees from NPS DFAM came away motivated and inspired and have planned an After Action Review (AAR) to discuss how to apply what they learned. Betsy Haynes, on detail to the NPS Fire Communication and Education Program within DFAM, stated, "The conference provided me with a sense of empowerment in my own personal career growth. I plan to continue conversations with a group of the women who attended the conference to discuss how we can improve women's leadership in the federal service."
The fourth annual conference is scheduled for September 14-16, 2016 in Boise, Idaho. Our hope is that NPS will be well represented at the 2016 conference. To learn more about this year's conference and speakers, visit http://sspa.boisestate.edu/andruscenter/events/andrus-conference/. The Andrus Center for Public Policy shared posts on Facebook at https://www.facebook.com/andruscenter and tweets were marked with the hashtag #womenlead2015.