News Release
Margaret "Meg" Gallagher Named Aviation Chief for National Park Service
Date: April 6, 2018
Contact: Tina Boehle, 208.387.5875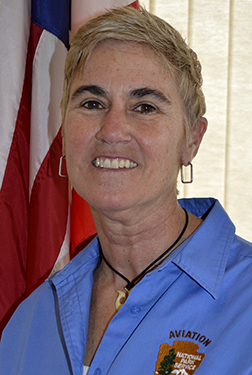 Margaret "Meg" Gallagher has been named as the new branch chief for the National Park Service (NPS) Aviation Program, succeeding Jon Rollens, who retired at the end of 2017. Meg is currently the acting aviation branch chief, having previously served as the national helicopter specialist for the NPS Aviation Program.
Meg began her career in the federal government as a Student Conservation Association (SCA) volunteer for Olympic National Park as a backcountry ranger. Over the next five years, she worked in wildland fire management for the U.S. Forest Service, NPS, and Bureau of Land Management as a seasonal wildland firefighter on hotshot crews, in fire dispatch, fire prevention, and as a helitack crewmember.
In 1992, two years after completing the Joint Apprenticeship Committee (JAC) Wildland Firefighter Apprenticeship Program, she moved to the Toiyabe National Forest as the assistant helicopter manager in Las Vegas, NV. In 1995, she became the helitack program manager of the Bridger-Teton/Grand Teton interagency rappel/shorthaul program in Jackson, WY. The following year, Meg spent a season on the "Ice," as a helicopter specialist for Antarctica Support Associates at McMurdo Station in Antarctica.
In 1998, as a warranted contracting officer, she became the aviation resource specialist for the Department of the Interior Office of Aircraft Services (OAS), then five years later stepped into the role of aviation training specialist for the thirty-seven states in the OAS's Eastern Region. In 2009, Meg was hired by the NPS as an aviation management specialist. Among her diverse duties, she filled the role of regional aviation manager for NPS's three eastern regions.
Most recently, Meg became the national helicopter specialist for the NPS Aviation Program in 2014. For the past four years in Boise, ID, she has built national operational plans for NPS's high-risk programs with the experts in the regions and parks, as well as kept the Service up-to-date on quickly changing policy that shapes the Service's aviation operations.
NPS Division of Fire and Aviation Chief, Bill Kaage stated, "With Meg's understanding of the many aspects of aviation within the National Park Service, her focus on policy and safety, as well as her experience at local, regional, national, and departmental levels, I have great confidence that the NPS Aviation Program will continue to excel as it moves forward."
Meg stated, "I look forward to leading the National Park Service's Aviation Program into the future with evolving technology, while building on our current excellent safety record. I also look forward to filling vacancies so we can provide the best customer service to all National Park Service employees who use aviation to meet the mission."
Meg and her partner reside near Boise. When not working, she enjoys travelling, riding her motorcycle, snowshoeing, and enjoying fine Idaho vintages.
She will begin her new position on April 15, 2018.
NOTE: A larger version of the image is available at http://go.nps.gov/mgallagher.
Last updated: April 6, 2018