News Release
Kathy Komatz Awarded Superior Service Award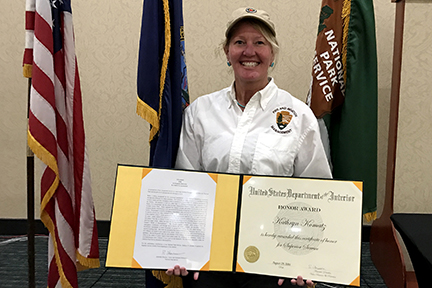 News Release Date: April 12, 2017

Contact: Tina Boehle, 208.387.5875
National Park Service Branch of Structural Fire Training Specialist, Kathy Komatz, has a passion for safety and firefighting. She recently received a Department of the Interior Citation for Superior Service for her work in improving "6 Minutes for Safety," which shares a daily safety message for wildland firefighters and is used during daily briefings, tailgate sessions, and as an educational tool.
The citation states:
In recognition of her exceptional success in improving wildland firefighter safety within the National Park Service and on an international, interagency, level.
Kathy is being recognized for her sustained contributions to the wildland firefighting community through the 6 Minutes for Safety program. 6 Minutes for Safety is a web based training resource which provides firefighters tools to troubleshoot known high risk situations encountered on the fireline. 6 Minutes for Safety is used on a daily basis by wildland firefighting crews across the United States, it is incorporated into the daily Incident Management Situation Report, and is standard in Incident Action Plans. Kathy upgraded the original calendar and added functionality to the overall program thereby transforming this training tool into one accessed ten thousand times per week during the western fire season. It is used by firefighters from federal, state, and local fire management agencies. It is used by seventy-two other countries from four continents and is translated by about half of those countries. Kathy accomplished this success in the relatively short time span of less than six years. Kathy updated the material so that it is relevant to current wildland firefighting safety trends. She added "This Day in History" to the curriculum providing a tool to distribute lessons learned from previous tragic events. Kathy has been the driving force behind the National Wildfire Coordinating Group's "Week of Remembrance". She brought together multiple safety products from the interagency community and through 6 Minutes for Safety she provided a primary distribution mechanism to reach thousands of ground level firefighters with safety messages and succinct training tools. Her work has permeated the wildland firefighting community and the concept of 6 Minutes for Safety is now a part of the culture. Kathy achieved all these things with little to no funding or guidance. She has frequently been the only member of the 6 Minutes for Safety Subcommittee and has relied on her ability to garner support from others within the community for assistance. Further, these duties were all collateral to her primary duties as the Structural Fire Education Specialist within the National Park Service Branch of Structural Fire.
For her outstanding contributions to the National Park Service, Kathryn G. Komatz is granted the Superior Service Award of the Department of the Interior.
Last updated: April 12, 2017