News Release
NPS Branch of Wildland Fire will bring interactive dance to schools in April 2016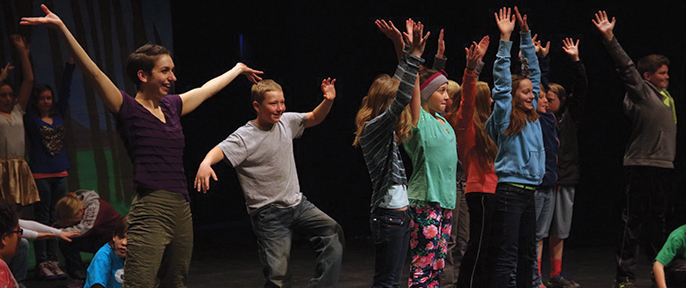 News Release Date: March 31, 2016

Contact: Tina Boehle, (208)387-5875
BOISE –In celebration of the 2016 National Park Service Centennial, the National Park Service Branch of Wildland Fire is sponsoring Fire Speaks the Land: An Active Audiences Dance Performance for Kindergarten through sixth grade students in Boise, Idaho.
Fire science and Native American education for youth merges with the performing arts when CoMotion Dance Project presents the 50-minute performance. Using choreography, narration, and music, the dance explores fire science, forest ecology, and traditional Native perspectives on fire. It features five dancers, a narrator, unique scenery and lighting, and colorful costumes as well as several opportunities for the audience to participate in the performance both on and off stage.
Boise area schools will bring K-sixth grade students to Timberline High School Auditorium for three performances: Thursday, April 7, 9:45-10:35 a.m. and 1:00-1:50 p.m.;and Friday, April 8, 9:45-10:35 a.m. The performances are limited to those schools that have already registered.
Written and produced by Karen Kaufmann and Steve Kalling, the piece features choreography by Karen Kaufmann and Joy French, with live performance by five professional dancers: Allison Herther, Kaitlin Kinsley, Jordan Dehline, Ashley Griffith, and Joy French. Original music was composed and recorded by Steve Kalling and nine Montana musicians. Blackfeet musician and storyteller Jack Gladstone narrates.
These performances are the conclusion of CoMotion's 2016 Fire Speaks the Land tour, which included performances in Missoula, Helena and Choteau, Montana reaching more than 2,800 school children, and more than 7,000 over the course of the production since 2013. The Boise performance is supported in part by the National Park Service Branch of Wildland Fire, University of Montana, Northern Rockies Fire Science Network, U.S. Forest Service Rocky Mountain Research Station and Idaho Firewise.
According to Dan Buckley, National Park Service Branch Chief for Wildland Fire, the performance is an opportunity to give back to the Boise community and connect with the next generation of park visitors, supporters and advocates. "The National Park Service values being a part of Boise and the interagency fire community. We look forward to sharing this opportunity to celebrate the National Park Service Centennial and reach our younger generation that will become stewards of our national treasures."
The Branch of Wildland Fire is a part of the National Park Service Division of Fire and Aviation and is co-located with other federal wildland fire agencies at the National Interagency Fire Center. For more information about the Division, visit https://www.nps.gov/fam. For more information about Fire Speaks the Land, visit https://go.nps.gov/fire-speaks-the-land.
Last updated: April 8, 2016