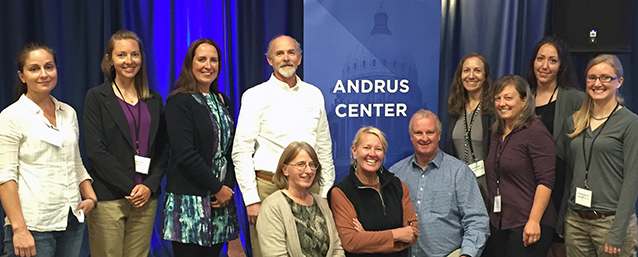 News Release Date: September 27, 2016

Contact: Tina Boehle, 208.387.5875
Resiliency is key to sustaining success. This was one of several takeaways heard by National Park Service employees attending a two-day conference at Boise State University on September 14-15, 2016.
They were among more than 700 attendees of the fourth annual Women and Leadership Conference, sponsored by the Andrus Center for Public Policy. The theme for the 2016 conference was "Empowering through Knowledge." With a goal of creating better leaders and promoting gender balance, the conference introduced influential policy and business leaders who shared their insights and offered tools to help participants become leaders in their respective fields.
"This was one of the most fantastic leadership opportunities I've been involved in thus far in my career," said Shanelle Saunders, Yosemite National Park lead firefighter. "The experience was phenomenal, and the people I met greatly impacted me professionally and personally. It taught me to not be afraid to talk about issues in the work place or at home, because those issues affect us greatly as a crew. The conference also emphasized being empowered to lead up, to learn to fail, and to get back up again."
Conference attendees, both men and women, heard thought-provoking presentations from keynote speakers, attended skill-building workshops, and engaged in networking sessions that included leaders from a variety of career fields. The audience was encouraged to celebrate the achievements of women who have broken barriers and to inspire others to follow in their footsteps. The audience was treated to a premiere screening of the film, The Hunting Ground, followed by a discussion with film producer Amy Ziering.
Leaders in politics, academia, sports, the arts, and business shared personal stories of success and adversity, explored some of the reasons why women may lag behind men in leadership roles, and encouraged participants to explore both career and personal growth pathways.
"What I learned here only strengthens my belief in the benefits of diverse organizations," said Structural Fire Branch Chief Hal Spencer. "Something that impressed me was discussion about the economic studies that show that an inclusive workforce improves the bottom line for business. Even though this was titled 'women and leadership' this conference is for anyone wanting to learn leadership lessons and gain skills. Men will absolutely benefit from this as well."
Attending the conference were staff from the Division of Fire and Aviation (DFAM) in Boise, Idaho and six NPS-sponsored scholarship recipients: Bonnie Bolser from Bandelier National Monument, Melissa Forder from the Southeast Regional Office, Mel Whitenack from Indiana Dunes National Lakeshore, Nina Dutton from the Pacific West Regional Office, Samantha Wendler from Gateway National Recreation Area, and Shanelle Saunders from Yosemite National Park. Prior to the conference, scholarship recipients met with staff from DFAM to discuss issues facing women in fire and aviation career fields.