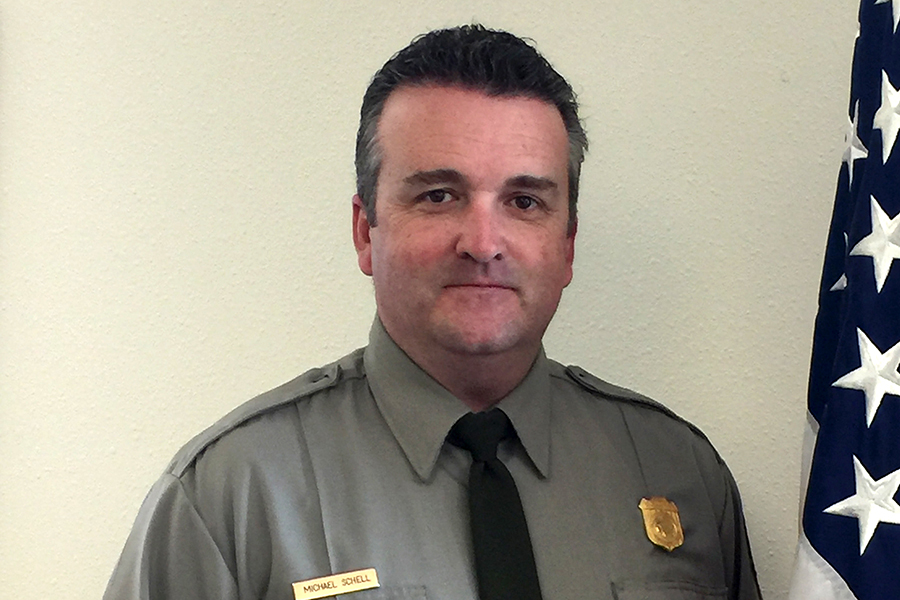 News Release Date: May 11, 2017

Contact: Tina Boehle, 208.387.5875
The National Park Service (NPS) Branch of Structural Fire has named Michael "Mike" Schell as the new operations program manager for the NPS Structural Fire Program, replacing Mark Gorman, who retired in 2016. In this position, Mike will lead and provide oversight for the NPS servicewide structural fire protection and suppression operations program stationed at the National Interagency Fire Center in Boise, Idaho. Mike has been the deputy fire chief for the Yellowstone National Park Structural Fire Department for the past 5 ½ years.
Schell began his firefighter career in June 1990 when he enlisted active duty military in the US Air Force. Graduating the Department of Defense (DoD) Fire Academy in September 1990, the Air Force assigned him to Vandenberg Air Force Base (AFB), CA where he performed structural, airport and wildland firefighter duties under the Strategic Air and Space Commands. Deployed in support of OPERATION DESERT SHIELD and DESERT STORM, he accelerated through certifications as a structural and airport firefighter performing the duties as a firefighter, dispatcher and fire apparatus driver/operator. Additionally, Mike graduated from the Vandenberg Hotshot Academy and joined Crew 2, the only military Hotshot crew in the United States. It was at Vandenberg where Mike met his future wife, Tami.
In 1994, Mike continued his firefighting career as a driver/operator and later as a crew chief assigned to Elmendorf AFB in Alaska. Mike also volunteered his off-duty time with Central Mat-Su Fire Department in Wasilla, AK.
Three years later, Mike became lead rescue crew chief in San Angelo, TX at Goodfellow AFB. He also performed station captain and assistant chief of operations duties. In 2002, the base fire department transitioned from military to civilian and he became a DoD instructor for the Louis F. Garland Fire Academy, located just across the base from his previous position. As a fire instructor, he taught Airport Firefighter and the Military Wartime Firefighting blocks of instruction to over 19,000 students annually. Earning degrees in Teaching and Fire Science, he became an instructor supervisor, leading cadre teams and up to 60 instructors. Surpassing over 3000 hours of teaching and 1000 hours of volunteer teaching in the local community, he obtained his DoD Master Instructor certification. In 2006, Mike and Tami were reassigned to Altus AFB, OK where Mike became the assistant chief of operations. He led a department of 76 firefighters in structural, airport, and wildland duties and then moved into the deputy fire chief position vacated by the previous civilian deputy. During this time, the civil engineer commander selected Mike to lead the Emergency Management (EM) Flight. Assuming the duties as the emergency management flight chief and superintendent, he brought the EM Flight to a new level of performance and emergency response. Eleven months later, he was ordered to report to Misawa Air Base in Japan.
In Misawa, Japan in 2008, Mike assumed the deputy fire chief/chief of operations duties. Working closely with Japanese Air Self-Defense Forces, local community governments, and prefecture fire departments, he brought interagency relations to a commendable status noted by all affected agencies. In September 2011, after his last deployment to the Middle East in support of OPERATION IRAQI FREEDOM and NEW HOPE, and a delay due to the need to assist with recovery from the 9.0 Fukashima Earthquake and tsunamis in Japan, Mike retired from the military and returned to the United States. One month later, Mike and Tami moved to Yellowstone National Park, where he became deputy fire chief.
"I am looking forward to assuming the position as the chief of operations for the Structural Fire Program and working with a great group of people," Mike states. "The previous operations program manager has left some pretty big shoes to fill and I hope to exceed all expectations that come with the position." The position responsibilities include 18 engine company parks and training course curricula for future NPS firefighters, driver/operators, fire officers and instructors.
Mike is an International Fire Service Accreditation Congress (IFSAC)/ProBoard certified firefighter II, fire officer IV, inspector III, instructor III, hazmat technician, hazmat incident commander, airport firefighter and driver/operator – pumper/aerial/aircraft rescue and firefighting (ARFF)/mobile water supply (MWS). Additional certifications and experience also include technical rescue, swift water rescue, search and rescue (SAR)/urban rescue, confined space and ice rescue operations. His wife, Tami, has worked as a 911 emergency dispatcher for the DoD and NPS. Mike has already begun his new duties in the Branch of Structural Fire. He, Tami, and their six cats will be relocating to Idaho soon.