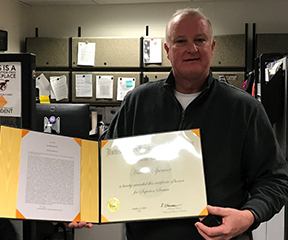 News Release Date: January 10, 2017

Contact: Tina Boehle, 208.387.5875
BOISE – National Park Service Branch Chief for Structural Fire, Hal Spencer, has hung up his fire helmet after thirty-six years with the federal government. Since 2007, he led the Service's Structural Fire Program co-located at the National Interagency Fire Center in Boise, Idaho with other branches within the National Park Service Division of Fire and Aviation.
Hal began his career in 1980 as a seasonal wildland firefighter on the helitack crew at Yosemite National Park. Six years later, he became the helitack foreman for the same crew. From 1989 to 1991, Hal was a helitack foreman with the Bureau of Land Management, Ely District. He became interested in structural fire, and beginning in 1992 he started working at the Presidio in San Francisco as a structural firefighter. The site was later added to Golden Gate National Recreation Area, so Hal returned to the National Park Service once the Presidio came under National Park Service jurisdiction, starting as an entry level firefighter and then promoting up to driver operator, captain, and fire marshal between 1994 and 2000. In 2000, Hal came to Boise as the first training and education specialist for the NPS Structural Fire Program and in 2007, he became the fourth chief of the program and branch.
Over the course of his career, Hal had many accomplishments. Among them, he helped implement a structural fire program for all NPS; obtained funding and positions for national and regional structural program offices; developed a standardized and accredited firefighter training curriculum requiring live fire; established, developed and funded a national academy training site. He also developed, implemented and obtained funding for a servicewide fire and life safety building inspection process that assured compatibility with Facilities Management requirements; established minimum requirements and a validation process for parks with engine company operations resulting in 50 fewer parks with unsafe firefighter response capability, and initiated a servicewide fire prevention educational campaign known as Prevention 52 – a fire prevention and education campaign every week of the year! Hal ended his career being awarded a Department of the Interior Superior Service Award for his many accomplishments and contributions over the course of three and a half decades.
Plans post-retirement are not fully fleshed out, but he states, "initially I intend to lay low, do a lot of introspection and organize my many ideas about how to pay it forward. I will focus on getting my daughter through her senior year of high school and plan on tiring out the dog with long walks. And of course, I will make the time to work in the many languishing projects around the house that my wife Laura reminds me about often." He adds, "I have a lot to be thankful for! I will never forget the many people who mentored and assisted me along the way and I will be eternally grateful for the opportunities I've had throughout my career."