What We Do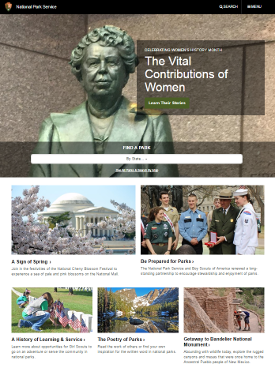 The Office of Communications plans, implements, and directs servicewide internal and external communications through the work of two integrated teams:
Public Affairs: This team serves as the official liaison with news media for the National Park Service on behalf of the director, providing the media with information and agency positions that explain NPS policies and promote the opportunities available to the American people through parks and our community programs. This team also coordinates internal communications among NPS employees to enhance information sharing at all levels of the organization.
Digital Strategy: This team establishes policy, strategy, and governance for NPS digital products and activities. The team manages NPS digital presences, including NPS websites, social media, and mobile applications. This team also manages the nps.gov homepage and other national-level pages and creates and publishes content across the full spectrum of NPS digital platforms (web, social media, and video) in support of national communications goals. The team implements the national office social media strategy and produces promotional videos for special events and issues.
The national office works closely with regional and program communications offices and public affairs specialists, web authors, and other communicators across the National Park Service.
The NPS uses a variety of communications tools to reach new audiences, engage a vibrant community of park advocates, and to promote a deeper understanding of national parks and NPS community-based programs by providing accurate, engaging, and timely content, as well as sharing important news and events from more than 400 parks and dozens of programs. NPS communications work has been recognized by the Public Relations Society of America and most recently by the International Academy of Digital Arts and Sciences with Webby nominations in multiple categories.
Learn more about Department of the Interior policies that govern our communications work.
Last updated: April 6, 2022